Senate Acquits Trump Over Violent Insurrection In Second, Historic Impeachment Trial
The Senate acquitted former President Donald Trump in an 57-43 vote Saturday, with seven Republicans crossing party lines to convict Trump—the highest number of senators convicting a president of their own party in American history.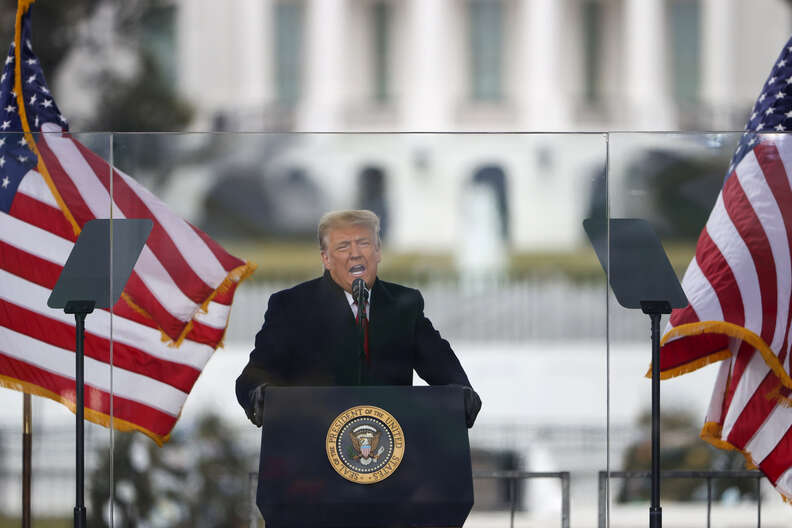 The Senate acquitted former President Donald Trump in an 57-43 vote Saturday on the charge of "incitement of insurrection," in Trump's historic second impeachment trial, with seven Republicans crossing party lines to convict Trump of high crimes and misdemeanors.
The Senate ultimately fell short of the two-thirds threshold needed to convict the former president after three days of arguments presented by House impeachment managers, who built a damning case using Trump's own rhetoric, calls to action, and harrowing footage of the violent U.S. Capitol insurrection on January 6. Trump's lawyers laid out their defense in one half day, largely criticizing Democrats for their rhetoric, lying about the impeachment managers, and refusing to say whether they believe Trump lost and Biden won even when asked about it directly by senators.
A majority group of bipartisan senators voted in favor of conviction; a two-thirds conviction vote would have also allowed a simple-majority vote on whether Trump could run for federal office again.
After presenting a 13-minute eyewitness video account of the riot that left five people dead, lead impeachment manager Rep. Jamie Raskin (D-MD) said, "If that's not an impeachable offense, then there is no such thing." The House of Representatives voted to impeach Trump on January 13, one week after the riot, in a bipartisan 232-197 vote. Ten Republicans joined House Democrats in impeaching Trump for his conduct, making it the most bipartisan impeachment in American history.
In Trump's first Senate trial, held in February 2020, he was acquitted in a narrower vote along party lines. Sen. Mitt Romney (R-UT) was the lone Republican who voted in favor of conviction then, becoming the first senator in U.S. history to do so to a president of his own party.
Now, six more senators have joined that group. Republican Sens. Richard Burr (NC), Bill Cassidy (LA), Susan Collins (ME), Lisa Murkowski (AK), Ben Sasse (NE), and Pat Toomey (PA) all voted to convict Trump, along with Romney, one signal that the rifts caused in the GOP by Trumpism will not be going away with his acquittal.
Some of the new Capitol security footage shown by House Democrats at the trial included video of Capitol Police Officer Eugene Goodman leading Romney away from the mob, potentially saving his life. "I was very fortunate indeed," Romney said after seeing the footage for the first time, and thanking Goodman, who attended the trial. On Friday, the Senate passed a resolution by unanimous consent to honor Goodman with the Congressional Gold Medal.
In his closing statements, Raskin noted that the Republicans praised Goodman, but would be voting to acquit the man who put his life in danger.
One of the House Republicans who voted to impeach Trump, Rep. Adam Kinzinger (R-IL), has made impassioned appeals to his own party in favor of conviction, including in a Washington Post op-ed published just before the trial began that said convicting Trump would be "necessary to save America."
Kinzinger also called out Sen. Josh Hawley (R-MO), who has been widely criticized for encouraging the pro-Trump mob outside the Capitol and objecting to the Electoral College certification process on January 6 — even after the deadly riot happened. Hawley, along with Sen. Ted Cruz (R-TX) and other GOP co-conspirators, voted to acquit Trump. They were observed throughout the week as not paying attention to the visual evidence played by House impeachment managers, either looking through papers, doodling, or in some cases, not even being present in the chamber itself.
Cruz, Sen. Mike Lee (R-UT), and Sen. Lindsey Graham (R-SC) all met with the Trump defense team prior to their arguments, prompting criticism from lawyers who pointed out jurors are not supposed to have private meetings with either side, and are not allowed to do so in other trials.
A majority of GOP senators argued that simply putting a former president on trial is unconstitutional, though that is not true. They lost a vote to try to stop the trial based on that argument in a 56-44 vote Tuesday. But some of them used it as cover to acquit Trump Saturday.
While a majority of Republicans had signaled they would not support conviction ahead of the trial, Democrats viewed it as an opportunity to show Americans the repercussions of the Trump presidency, and warn of future violence if Trump escapes without accountability. Some videos played of insurrectionists showed them talking about storming state capitols or coming back to Washington, D.C. with "30,000 guns … next time."
Many who watched the evidence presented at the trial believed it should be required viewing. Multiple polls before the trial showed that a majority of Americans supported conviction and barring Trump from running for future office.
Democrats and some Republicans also saw the trial as a way to prove what a majority of GOP senators are willing to condone.
His second trial also occurred without witnesses, though House impeachment managers made a surprise move Saturday morning by calling to subpoena Rep. Jaime Herrera Beutler (R-WA), who voted to impeach Trump and had come forward in previous weeks with more information about Trump's actions on Jan. 6. The motion to call witnesses passed, and Senate Democrats and Republicans came to an agreement to read a statement, which Herrera Beutler issued Friday night, into the record as evidence, before moving on to closing arguments.
Herrera Beutler had detailed a conversation between Trump and GOP House Leader Kevin McCarthy to news outlets, which she once again recapped in the statement. She said McCarthy asked Trump to "forcefully call off the riot" and that Trump replied by falsely claiming that it was antifa who were attacking the Capitol. She also called on former Vice President Mike Pence and other Republicans in Congress to speak up if they know of other things Trump said or did during the attack.
Democrats invited Trump to testify before or during the trial, which he declined. He reportedly played golf this week instead.
Correction: A previous version of this story identified Sen. Lisa Murkowski as (R-AL). It has been updated to reflect her state abbreviation of AK.