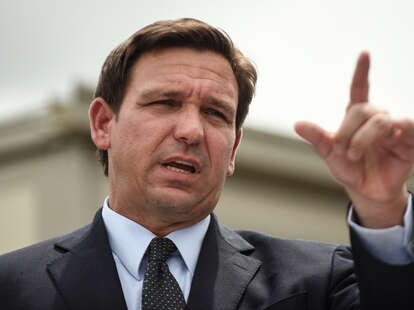 Florida's Senate Education committee approved a new bill supported by Florida governor Ron DeSantis (R) on Tuesday that would ban the state's schools and private businesses from making people feel "discomfort" or "guilt" in regard to their race, sex, or national origin.
Though the new measure, called the Individual Freedom bill, does not overtly target critical race theory, the term is used in the bill analysis shared with senators and was pushed forward by the Republican-majority State Senate Education committee, with many Democrats believing the bill's true purpose is to ameliorate white guilt over past racism.
"This bill's not for Blacks, this bill was not for any other race. This was directed to make whites not feel bad about what happened years ago," said Sen. Shevrin Jones (D-FL), adding, "At no point did anyone say white people should be held responsible for what happened, but what I would ask my white counterparts is, are you an enabler of what happened or are you going to say we must talk about history?"
The bill would also prevent employers from implementing employee training that "espouses, promotes, advances, inculcates, or compels" people to believe they carry "responsibility for, or should be discriminated against or receive adverse treatment because of, actions committed in the past by other members of the same race, color, sex, or national origin."
Last month, DeSantis invoked Dr. Martin Luther King Jr. at a news conference in which he advocated for the "Stop Woke Act" and shared proposed legislation that would allow parents to sue schools for including critical race theory in classroom instruction.
"You think about what MLK stood for, he said he didn't want people judged on the color of their skin but on the content of their character. You listen to some of these people nowadays, they don't talk about that," the governor said.
In response, Bernice King, daughter of the late Dr. Martin Luther King Jr., called out DeSantis on Twitter for the "misappropriation and misuse" of her father's words.
When asked to comment on the Individual Freedom bill, a spokesperson for DeSantis echoed his remarks from the December conference.