Large Companies Are Returning Multimillion Dollar Small Busines Loans Amid Backlash
Meanwhile, many small businesses received no assistance from the federal government's $2 trillion stimulus package.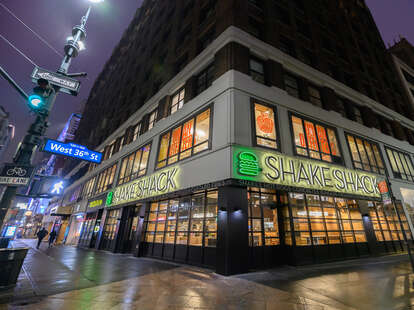 Ruth's Chris Steak House and Sweetgreen joined Shake Shack in returning multimillion dollar loans from the federal small business protection program that ran out of money last week. The move comes amid backlash over the many large companies that were able to apply for emergency loans if they had fewer than 500 workers at a single location.
Ruth's Chris announced Thursday that it would repay its $20 million loan, the Wall Street Journal reported. SweetGreen's CEO wrote an open letter describing why it was returning its $10 million loan, which it was able to access through the $2 trillion federal relief package during the coronavirus epidemic.
The stimulus funding dried up within minutes of the program's launch on April 3, and many small businesses were left with $0 in assistance.
Shake Shack was the first major business to return its $10 million Paycheck Protection Program loan, and CEO Randy Garutti critiqued the program as "extremely confusing," saying it "came with no user manual." Garutti also laid out suggestions for improving the program, including more funding and the elimination of "the arbitrary June forgiveness date" as the reopening of state and local economies remains an unambiguous patchwork across the country. (The PPP loan program is open until June 30.)
"If this act were written for small businesses, how is it possible that so many independent restaurants whose employees needed just as much help were unable to receive funding?" CEO Randy Garutti wrote in a blog post. "We now know that the first phase of the PPP was underfunded, and many who need it most, haven't gotten any assistance."
Shake Shack employs 8,000 people — about 45 work at each of its 189 locations across the U.S., Garutti said. The company's revenue for the first quarter of 2020 was $143 million, marking a steep 12.8% decline from sales in the same period last year, according to an SEC filing. The company had $104 million in cash and liquid assets as of April 17.
The wide majority of the loans given to small businesses (74%) were for less than $150,000, according to the Small Business Association. Yet those smaller loans represented 17% of the allocated funds, compared to nearly 28% for loans greater than $2 million.
Ruth Hospitality Group, Potbelly and Fiesta Restaurant Group's Texas Taco Cabana were among the largest companies that have received the free federal loans, and McDonald's and Dunkin' also applied, Reuters reported.