Shea Serrano Gave Away Money on Twitter Amid Coronavirus Outbreak
The author and Twitter personality asked other followers to join who have "been lucky enough to not have your work life affected & wanna help out then grab someone from here."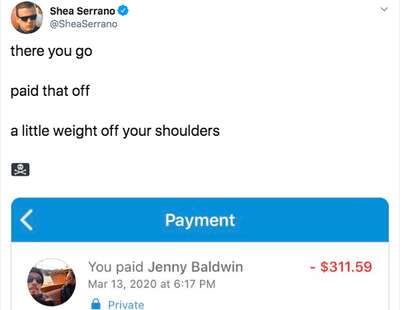 Writer, author, and Twitter personality Shea Serrano is helping some members of his large online following by offering to pay their bills amid the coronavirus pandemic.
On Wednesday night, Serrano tweeted to his more than 335,000 followers that if they needed extra help after "some tough days," to give their Venmo or CashApp accounts in his mentions. The next day, he reiterated his offer, saying if people weren't sure they'd be able to pay a bill, to send it his way, along with their Venmo account.
"[Been] some tough days for a bunch of hardworking people [...] if you've been hit & need a little help then drop your venmo/cashapp/paypal below [...] if you've been lucky enough to not have your work life affected & wanna help out then grab someone from here," his first tweet read.
"Fuck coronavirus[...] who has a bill coming up that they're not sure they're gonna be able to pay [...] send me your bill and your venmo," the tweet read.
Several people responded to the tweets with car payments, student loan payments, and other bills. Serrano then posted screenshots of him sending money through Venmo to many of those who responded.
One person said they're a student who relies on a campus job as income, but since the college shut down, half of their income is now gone.
Several other respondents were met with donations from other followers and not just Serrano.
When asked why Serrano was making the efforts to help with bills, he responded, saying "ain't nothing to it — me and my internet friends mostly spend all our time making fun of each other on the internet but sometimes we like to try and put some good energy in the universe — that's why we did it — we just wanted things to feel less shitty for an hour or so."
Lil Nas X and rapper Megan Thee Stallion also tweeted asking followers to send them their CashApp accounts so that they could send money.
Hourly employees are grappling with the financial effects of coronavirus, which has caused many businesses, events, and places of work to shut down. Many companies that have customer-facing workers are urging their employees to stay home if they feel sick, but roughly 24% of U.S. civilian workers do not have access to paid sick leave. Employees who rely on the hourly wage are at a higher risk for a financial and health crisis due to coronavirus.
"One of the biggest impacts is that [employees at public-facing jobs] cannot afford to stay home when they don't feel well," said John H. Chuang, founder and CEO of staffing agency Aquent. "Whether you are a cashier at Walmart or a server, these workers are constantly interacting with the public. And that brings a lot of concern from a health and safety standpoint, especially since symptoms of the coronavirus may not show up for days or weeks."