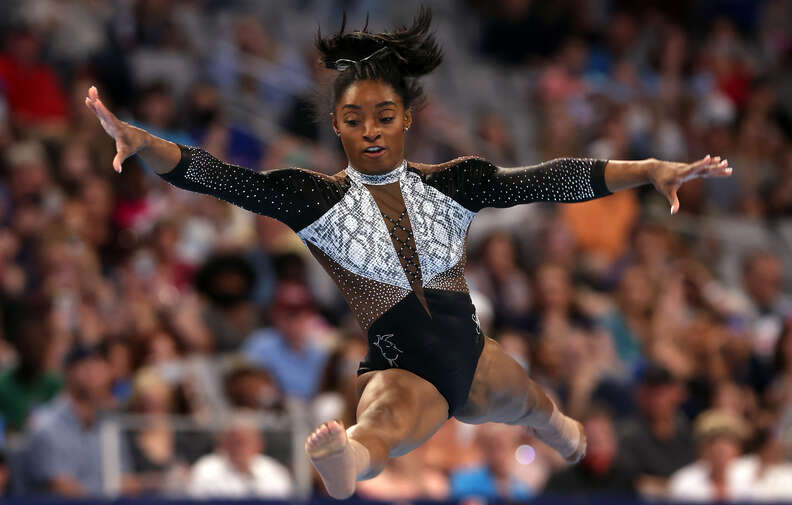 Simone Biles competes in the floor exercise during the Senior Women's competition of the U.S. Gymnastics Championships at Dickies Arena on June 06, 2021 in Fort Worth, Texas.

| Getty Images
Simone Biles competes in the floor exercise during the Senior Women's competition of the U.S. Gymnastics Championships at Dickies Arena on June 06, 2021 in Fort Worth, Texas.

| Getty Images
Four-time Olympic gold medalist Simone Biles solidified her dominance in the gymnastics world by earning her seventh U.S. title over the weekend, becoming the first woman ever to do so.
Biles, 24, won the women's all-around at the U.S. Gymnastics Championships in Fort Worth, Texas on Sunday. She kicked off her floor routine with "the Biles," a complicated move with two flips and three twists that was named for her when she became the first woman to complete it in 2019.
She scored a total of 119.65 points, which was 4.7 more than second place winner Suni Lee and 5.2 points more than third place winner Jordan Chiles. Biles has placed first in every women's all-around she's competed in since 2013.
"It's really emotional, especially going into my second time doing an Olympic run, it's really crazy and I appreciate everyone that's come out to watch and support us, especially after the year we've had," Biles said in an interview after winning.
Before Sunday's win, Biles was tied with Clara Schroth Lomady, who competed in the 1940s and 50s, with six national titles. Biles is now tied with Alfred Jochim for most titles by any U.S. gymnast.
Fans on Twitter couldn't help but notice a glitzy but subtle nod to her unofficial accolade: a rhinestone goat on her leotard.
Biles has set the bar high by dominating the gymnastics world and attempting difficult tricks. Last month, Biles made headlines for completing the Yurchenko double pike in the U.S. Classic in Indianapolis. The complex vault trick has historically — but rarely — only ever been pulled off by men. But Biles changed that.
Biles is likely to make her return to the Olympics on the USA Women's Gymnastics team scheduled to take place in Tokyo in July. Biles will compete for a spot during trials for the Olympic games which will take place later this month in St. Louis.
If she makes it to Tokyo, she'll also attempt to become the first woman to ever win back-to-back Olympic gold medals in more than 50 years.
"I feel like every single championship stands out for a different reason, but this one stands out specifically because it's the road to Tokyo," Biles continued. "We came out here, and we did what we were supposed to."