Simone Biles Feeling "The Weight of The World" At Tokyo Olympics
Despite being expected to easily sweep the competition, the U.S. women's gymnastics team finished second in the qualifying round at the Tokyo Olympics.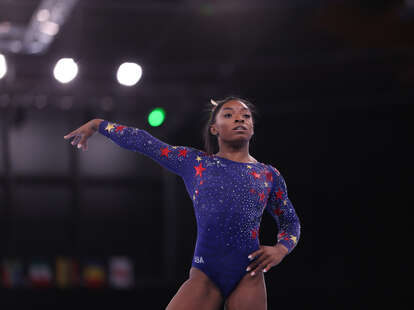 Simone Biles might be the GOAT of the U.S. women's gymnastics team, but even she feels the pressure, saying she feels like she carries "the weight of the world" on her shoulders at the Tokyo 2020 Olympics.
The four-time Olympic gold medalist's admission came after the U.S. women's gymnastics team finished in second place behind Russia during the qualifying competition on Sunday.
"I know I brush it off and make it seem like pressure doesn't affect me but damn sometimes it's hard," Biles said in an Instagram post. "The olympics is no joke!"
Sunday's performance marks the first time since 2010 that the women's squad failed to clinch first place in a qualifying event at an Olympic games or world championship.
Despite a rocky start, Biles and her teammates Sunisa Lee, Jordan Chiles, and Grace McCallum, will advance to the team final competition on Tuesday. They'll face off with Russia, China, France, Belgium, Great Britain, Italy, and the host of this year's games, Japan.
In addition to the team final, Biles will compete in all five individual events, including the all-around, floor exercise, beam, uneven bars, and vault.
After Biles opened up on social media, other athletes rallied behind her.
Five-time Olympic medalist Nastia Lukin offered words of encouragement in a post on her Instagram story, saying "people forget that even the very best in the world are still human."
Lukin said people should "continue to spread our love and support to our athletes," who are competing in the biggest athletic competition in the world with "the weight of an entire nation and world on their shoulders during a pandemic without fans and their number one supporters, their family."
Fellow Olympic gymnast, Danusia Francis, called Biles "incredible" in a comment under her post.
"I'll be cheering my heart out for you in finals," Francis wrote.