Single Mom Becomes a Carpenter After Experiencing Homelessness
This single mom of 7 in Southern California went from being homeless to being a full time carpenter.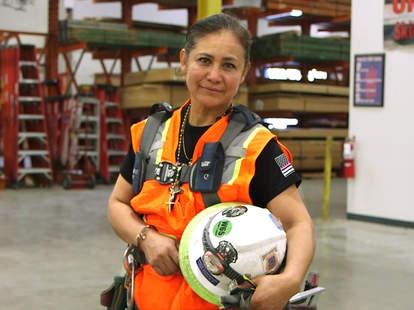 This single mom of 7 in Southern California went from being homeless to being a full time carpenter. 50-year-old Alicia Jimenez worked multiple jobs to provide for her family and eventually moved into her own house in 2000.
"I like to fight for life, I like to fight for life. But there came a time that everything fell apart. It got out of my hands. I felt there was nothing more I could do," said Jimenez in an interview with NowThis. "I remember when I rented apartments, I had to tell my children to run so managers wouldn't look at them. My dream was something for them. It was then I decided to buy my house in 2000."
In 2013, someone who Jimenez describes as a "real estate man" told her he would help adjust her payments and fix up her house. Instead, the man reportedly defrauded Jimenez and stole her home.
"It was there that my family was destroyed."
Jimenez started sleeping on the street with two of her daughters until they could eventually move into a small, broken down trailer.
"This abandoned trailer, un trailer abandonado. There's nothing there, no water, no light, no carpet, nothing. This—uh—half, half trailer only," said Jimenez.
One of Jimenez's daughters helped her enroll in a course to learn English at a local community college.
"So I attended the school. I wake up early in the morning," said Jimenez. "I'm so happy I sleep well, I take a shower with hot water, now. Before I [didn't] have hot water. But when I started attending the school, I put my bucket with water and I put it in the sun, when I go home I take a shower with the water."
Her counselor told her about a program called Brother's Keeper, offered by the Southwest Regional Council of Carpenters.
"It's a great program—a program to help people that maybe wouldn't have otherwise gotten a chance," said Dan Langford, Executive Secretary-Treasurer of SWRCC. "So they learn the physical demands, how to pick up material, how to wear the heavy tools. They learn material identification. They learn how to use the tools, but probably most importantly, they learn the mental toughness. Construction is hard, hard work. If you're not mentally tough, it's hard to make it through every day with the hard work."
Jimenez was selected to join the free, two week program, which allowed her to become a carpenter's apprentice right after. She has spent a year and a half training as an apprentice and works on the building of the new Los Angeles metro.
"Someone on the outside that would think that a female minority at middle age that was going through a tough time in life, how could someone like that be successful, that she came in, worked hard, didn't let anyone hold her back and look at her now— she's two years into doing some of the hardest work that anyone can do," Jimenez said. "Building that new connector line, the mass transit line, doing heavy concrete work. So that's just her peers perseverance, her can do attitude, her willingness to succeed."
Today, Jimenez shares an apartment with one of her daughters. The other recently graduated from college.
"My daughters, [they're] so proud of me. Everyday [they] say 'mom are you tired? You look tired.' And I say, yes mama I go to sleep early," said Jimenez. "But it's okay, I need to keep on going because I'm not working, I don't have [a] house.
Jimenez commutes approximately 40 miles every day to work. She hopes to one day graduate from being a carpenter's apprentice and eventually build her own house.
"My goal is to be a general carpenter," said Jimenez. "When the project [finishes], I want to come to school to learn interiors. I want to learn step-by-step to be a general carpenter to complete the house."
Jimenez, who came to the U.S. from Mexico when she was 14-years-old, officially became a U.S. citizen in March 2019. She says above all else she's grateful to those who gave her a chance.
"Thank you for helping me and thank you for giving me the opportunity," she said. "Don't be afraid to ask for help. Knock [on] the door and [if] the door don't open, keep [knocking on] the door. Because there's a lot of opportunities for everybody."
Jimenez recently became a 5th Period Apprentice.
"Anything is possible. I remember the words from one professor I never [saw] again, [who said], 'Alicia, don't give up. I trust in you.' So I want to tell this professor I'm here. This world made me strong too."