Sir David Attenborough Breaks Instagram Follower Record In Mission To Save The Planet
The naturalist and television host joined the social media platform to explain the many problems the world is currently facing and how we can deal with them.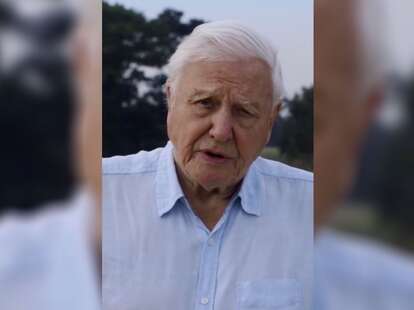 Natural historian and television host Sir David Attenborough, 94, acquired a record number of followers after publishing his first Instagram post on Thursday.
According to the Guinness Book of World Records, Attenborough reached one million followers on Instagram in four hours and 44 minutes after publishing his first post. The previous record was held by actor Jennifer Aniston who reached the milestone in five hours and 16 minutes.
In his debut IGTV video, Attenborough said that he joined the platform to explain the many climate-related problems the world is currently facing and how we can deal with them.
"As we all know, the world is in trouble," he said. "Continents are on fire, glaciers are melting, coral reefs are dying, fish are disappearing from our oceans. The list goes on and on."
While signing off his video, Attenborough also invited viewers to "join me — or as we used to say in those early days of radio, stay tuned."
Jonnie Hughes and Colin Butfield, who worked with Attenborough on the upcoming Netflix documentary "David Attenborough: A Life on Our Planet," explained in the video's accompanying post that they're helping him run the account since "social media isn't David's usual habitat."
"Saving our planet is now a communications challenge. We know what to do, we just need the will," they said. "That's why we want to share this message on Instagram. Because there is hope and together, we can inspire change."
Attenborough narrated the 2019 British nature documentary series "Our Planet," which also discussed humans' impact on the environment.
As of Friday, his Instagram account has 3.4 million followers.