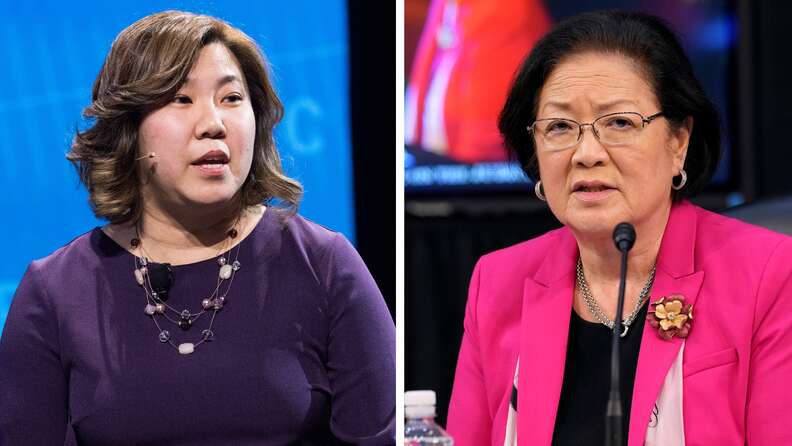 The Senate voted to advance anti-Asian hate crimes legislation in an overwhelmingly bipartisan 92-6 vote on Wednesday, after an uptick in violence against the AAPI community has been reported since early 2020. However, six Republican senators voted against it.
According to the New York Times, Sens. Ted Cruz (R-TX), Josh Hawley (R-MO), Tom Cotton (R-AR), Roger Marshall (R-KS), Rand Paul (R-KY), and Tommy Tuberville (R-AL) opposed the bill, officially titled the COVID-19 Hate Crimes Act.
Sen. Mazie Hirono (D-HI), the Senate's first elected Asian American, and Rep. Grace Meng (D-NY) introduced the bill, which is designed to help make public reporting around hate crimes easier as well as advance them at a faster pace for review to the Justice Department. The bill was first introduced in May 2020, nearly two months into the COVID-19 pandemic. The Associated Press reported that final passage remains uncertain, though The Times projected the bill could face a final vote as soon as this week.
Sen. Cotton, who opposed the bill, said in a statement on Tuesday that the act was "moved to the Senate floor with little commentary, factfinding, or Committee consideration." He also noted that the bill had been pushed forward without a hearing.
Data collected by the Center for the Study of Hate & Extremism at California State University, San Bernardino earlier this year found a 149% increase in anti-Asian hate crimes in 16 of the largest U.S. cities in 2020. The study also found that the first spike in crimes occured in March and April — when the COVID-19 virus was first rapidly spreading. Last month, a white man shot and killed eight people, including six women of Asian descent, at spas in Atlanta, GA.
Also Wednesday, President Joe Biden announced the appointment of Erika Moritsugu as Deputy Assistant to the President and Asian American and Pacific Islander (AAPI) Senior Liaison. Moritsugu has prior experience working in the White House; she currently serves as Vice President at the National Partnership for Women & Families and previously served under Housing Secretary Julián Castro in the Obama Administration.
Moritsugu's appointment comes after Sens. Hirono and Tammy Duckworth (D-IL) increased pressure on the Biden administration to add a senior-level AAPI adviser, saying they would vote "no" on some of Biden's Cabinet nominees.
"Erika's designation as a deputy assistant to the president demonstrates that the White House heard the AAPI community's call for this role to be a senior level position," Sen. Hirono said in a statement. "I have confidence that Erika will use her deep experience in Congress, the Executive Branch, and as an advocate to be a champion for the AAPI community in this administration."
The increase in anti-Asian hate crimes has been reported throughout the pandemic, with critics saying the hateful rhetoric was exacerbated by former President Trump repeatedly referring to COVID-19 as the "China Virus."