Some Of The Most Powerful Moments During Peaceful Protests
While videos and images of violence and looting were widely shared throughout the weekend's protests, there were also many strong moments of solidarity and peace.
Protesters in Miami, FL/ Getty Images
A wave of protests drew huge crowds of people in cities nationwide this weekend demanding justice for George Floyd, who was killed by a white police officer last week. And while some protests erupted into violence, with people causing damage to property and looting businesses, many demonstrations either remained peaceful or started out that way.
Violent imagery flooded social media feeds, but several powerful moments were captured, too: 
1. Protesters in Minneapolis held up their fists and chanted "George Floyd" during a  Sunday demonstration:
Peaceful protest in Minneapolis. Share this. Post this. It's not exciting, it's not shocking, but it is POWERFUL. pic.twitter.com/tOIjXrPyJJ

— Bi Nguyen "killer bee" (@killerbeemma) May 31, 2020
2. Black protesters worked to stop people from defacing public property:
3. In Los Angeles, protesters took a knee in the street:
4. Demonstrators in Boston silently held up phone lights to honor Floyd:
The protests there remained peaceful earlier in the day: 
Protesters in Boston/ Getty Images
5. Protesters took a knee in front of police in San Francisco: 
Getty Images
6. A crowd of people marched down the streets of Cincinnati: 
Getty Images
7. A crowd in Chicago also marched: 
8. And in Philadelphia:
Peaceful George Floyd protests have started in Philadelphia, heading northbound on Broad St.

Protestors are urging calm while Philadelphia bike cops follow the demonstration. pic.twitter.com/TUcacjxOi4

— Pranshu Verma (@pranshuverma_) June 1, 2020
9. People started singing during this protest in Canton, Ohio:
10. A protester in Pittsburgh gave water to officers:
11. Activists marched in downtown Miami: 
Getty Images
While officers took a knee during a rally in Coral Gables, FL: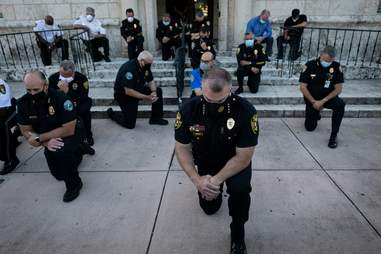 Getty Images
12. Protesters in Stockton also kept the peace: 
13. San Bernardino protesters played music and chanted: 
14. Baton Rouge activists kept the peace during its demonstration: