State Dept. Issues Highest-Level Global Travel Warning: Don't. At All.
The level 4 warning is rarely used and says that travel abroad puts people at "greater likelihood of life-threatening risks."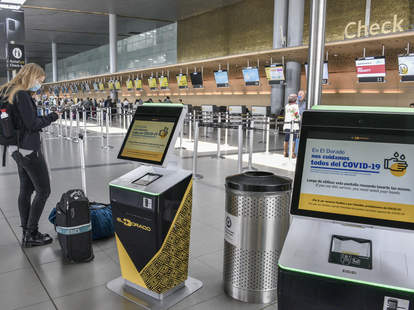 In an unprecedented move, the U.S. State Dept. issued a level 4 travel warning to American citizens on March 19, saying to avoid all international travel — and that any Americans abroad who live in the U.S. should try to come home.
Travel Advisory: Level 4 - The Department of State advises U.S. citizens to avoid all international travel due to the global impact of #COVID19. In countries where commercial departure options remain available, U.S. citizens who live in the US should arrange for immediate return. pic.twitter.com/MydSzFffYd

— Travel - State Dept (@TravelGov) March 19, 2020
The State Dept. travel warning scale runs from levels 1 to 4, with 4 being "the highest advisory level due to greater likelihood of life-threatening risks," according to the government website. Health experts also caution against any domestic travel due to the widespread quarantine measures in place across the U.S.
Previously, the travel advisory for U.S. citizens was at level 3, asking people to "reconsider travel" to most parts of the world and to avoid travel in the identified hotspots, like China and Europe.
According to CNN, level 4 is rarely used, and even when it is, it's usually for countries in a state of war, like Syria, Iran, Yemen and North Korea. The federal government wants Americans to stop going overseas during this time, as testing ramps up in the country and confirmed COVID-19 cases are growing exponentially by the day.
As of March 19, there are more than 11,200 confirmed cases in the U.S., with 157 reported deaths, according to Johns Hopkins. The same tracker reports there are at least 227,740 coronavirus cases confirmed globally, including at least 9,318 deaths and more than 84,500 recoveries. Italy is still struggling to contain its outbreak, even with the entire country on lockdown, and the number of deaths there just surpassed the number of deaths in China — more evidence that global travel is still not safe. The good news is that China has reported a notable slowdown in cases, making world leaders hopeful that quarantine and social distancing measures are working.