State DOJ Investigates After Wisconsin Police Shoot Jacob Blake Multiple Times
Graphic footage of the shooting shows two officers follow Blake, a Black man, as he tries to enter a vehicle. The cops then appear to shoot Blake in the back at least seven times.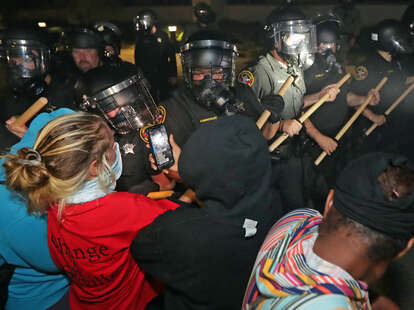 Protests erupted in Wisconsin overnight on Sunday, after Kenosha police were captured on video earlier that night shooting a Black man in the back multiple times. The state's Department of Justice announced Monday that it's now investigating the shooting.
The man, who has been identified as 29-year-old Jacob Blake, was transported via medical helicopter to the Froedtert Hospital in Milwaukee, police said. He was in serious condition as of Sunday night. The officers involved have been placed on administrative leave.
The shooting took place slightly around 5 p.m. local time after officers responded to a report of a "domestic incident," according to police. Widely shared, graphic video from a bystander shows Blake round the corner of a gray vehicle and open its driver-side door. Two officers within a close range can then be seen firing their guns at his back. At least seven shots can be heard, as several bystanders scream.
Benjamin Crump, a civil rights attorney, tweeted that three of Blake's children were in the car at the time he was shot. Crump, who is also representing the families of George Floyd and Ahmaud Arbery, said Monday that Blake's family has retained him to represent them.
The Kenosha News reported that "at least half a dozen witnesses" said Blake "had tried to break up a fight between two women" outside of a home on the block where officers were dispatched. Officers reportedly used a stun gun on Blake before he was shot near the vehicle.
Wisconsin Gov. Tony Evers (D) tweeted about the incident late Sunday.
"While we do not have all of the details yet, what we know for certain is that he is not the first Black man or person to have been shot or injured or mercilessly killed at the hands of individuals in law enforcement in our state or our country," Evers said in a statement.
The governor added: "We stand against excessive use of force and immediate escalation when engaging with Black Wisconsinites."
After Blake was shot, live stream video taken Sunday night showed crowds of people demonstrating in response to the incident. Officers in riot gear were filmed in confrontations with protesters outside of the city's police department.
At least 100 people protested outside of the Kenosha County Public Safety Building, the Milwaukee Journal Sentinel reported. In some videos, small fires can be seen, and several businesses were reportedly damaged. Police announced a city-wide curfew around 2 a.m. local time, which was effective until 7 a.m. on Monday.

Blake's shooting is the latest officer-involved incident of its kind to be captured on video in the U.S., as protests against systemic racism and police brutality have swept the nation this summer. Public figures across the country have already begun expressing discontent and disappointment about this latest case.
"Our lives have so little value that ofcrs are using fatal gunshots as a shortcut to talking, negotiation, disabling vehicles," Sherrilyn Ifill, an executive at the NAACP Legal Defense and Educational Fund, tweeted. "It's shorter; the ofcr doesn't have to get physically involved; and the result is guaranteed."
"We shouldn't have to see one more video of a Black human being brutalized and/or gunned down by police in a clear case of excessive or unwarranted force. Anybody who doesn't believe we are beyond a state of emergency is choosing to lack empathy and awareness," Bernice King, CEO of the Martin Luther King Jr. Center, tweeted.
The Wisconsin DOJ's Division of Criminal Investigation will lead the investigation into the shooting, and said Monday that it aims to send a report to the prosecutor within 30 days.