States Are Shipping Each Other Ventilators Because The Federal Gov't Is MIA
It's an important trend: governors are coming together to fill the chasm left by the federal government.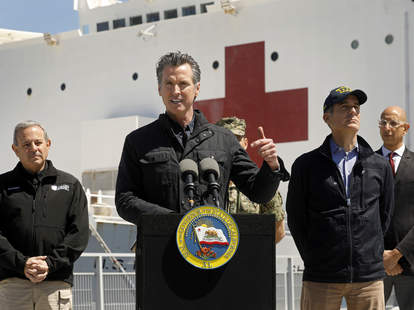 CA's 500 ventilators will begin to ship out today:
100->NY
100->NJ
100->IL
50->MD
50->DC
50->DE
50->NV

Committed to the health of every Californian. Practicing our duty as Americans to take care of one another. I know other states would do the same. pic.twitter.com/5y5hquISew

— Gavin Newsom (@GavinNewsom) April 7, 2020
New York Gov. Andrew Cuomo has been saying for weeks that if other states can help New York get through its peak — anticipated to be the first and possibly worst peak in the country — he will in turn personally direct help toward those states when they need it.
The shipment from California was warmly welcomed this week by Gov. Cuomo:
Messages on a shipment of ventilators from California.

Thank you to the people of California and Gov. Newsom.

We are so moved by the outpouring of support & solidarity 💪 pic.twitter.com/WZYnCUYMf6

— Andrew Cuomo (@NYGovCuomo) April 9, 2020
And Gov. Newsom had this response to New Jersey Gov. Phil Murphy thanking him as well:
California isn't the only state sending much-needed ventilators to other states; Oregon has also helped New York. Oregon has so far confirmed more than 1,300 COVID-19 cases, while New York is approaching 150,000 confirmed cases.
The state of Oregon is sending 140 ventilators to NY.

We are so grateful to @OregonGovBrown and the people of Oregon.

On behalf of the people of NY, I thank you and rest assured that NY will repay the favor when Oregon needs it.

— Andrew Cuomo (@NYGovCuomo) April 4, 2020
The governors are stepping up where they say the federal government has been notably absent. Trump, who has told states to place their own orders with manufacturers for equipment, insists that's the right strategy. Governors disagree. Public health experts say it's "unprecedented having the president pit one state against the other" during a crisis such as this. As the country's strategic stockpile of PPE has been nearly depleted, House Oversight Chairwoman Carolyn B. Maloney (D-NY) said the administration is leaving states to "fend for themselves" in a scarce open market for supplies, facing off against each other and federal agencies in an increasingly expensive and chaotic bidding war."
"We're supposed to be the United States helping each other out, not survival of the fittest," doctor and public health researcher Laura Kahn said to CalMatters, a California nonprofit news site. Kahn has written a book called "Who's in Charge?: Leadership during Epidemics, Bioterror Attacks, and Other Public Health Crises."
Governors' calls for help have been a resounding chorus as the outbreak has worsened. "There should have been a coordinated effort by the federal government," Illinois Gov. J.B. Pritzker said on CNN March 22. "We're competing against each other, we're competing against other countries, you know, it's a Wild West out there." Now, rather than competing against each other for manufacturing orders, the states are trying to share their stockpiles themselves.
"It's like being on eBay with 50 other states bidding on a ventilator," Gov. Cuomo said in late March, of Trump's directions for governors to make their own purchases. "The federal government, FEMA, should have been the purchasing agent, buy everything and then allocate it by need to the states."
Gov. Newsom says California is stepping up to help with Personal Protective Equipment (PPE) that frontline healthcare workers desperately need as well:
NEWS: Gov. Gavin Newsom: California has inked deal for 200 million masks (150 million N95, 50 million surgical) per month, enough to meet state's needs and potentially export to other states pic.twitter.com/mmMRZYOrLq

— Maddow Blog (@MaddowBlog) April 8, 2020
Californians are grateful for Governor Newsom's leadership on Coronavirus. His early action saved lives.

Now he's creating partnerships between states to send ventilators to those in need.

He's demonstrating the best of California's spirit.

We really are all in this together. https://t.co/EOqwvFocEq

— Adam Schiff (@RepAdamSchiff) April 8, 2020