Paid Content For

A Yarn Shop in Brooklyn Is Bringing Together a Community of Crafters
This Black-owned store hosts a night of knitting and crocheting every Friday.
Paid Content For

A Black-owned yarn shop in Brooklyn is bringing a community of crafters together. It all began in 2017, when Felicia Eve founded String Thing Studio as a "refuge."
"I was in mourning, grieving, because I had lost my mom in the previous 2 years," Eve told NowThis. "I really wanted to create a space where people could come, and hang out, and feel comfortable to be there. It's an extension of my home. It's an extension of my kitchen, which is where the party always is."
Before owning the String Thing Studio, Eve was a podiatrist and surgeon. She said she always had a passion for textile crafting, though, and dreamed of owning a yarn shop. "It was really after my mom passed away, and my girlfriends were like, 'You need something that has — get your feet underneath you — and something that really grounded you, that you've been in love with for years,'" she said.
Eve's knowledge of textile crafting was passed down through the generations. "I was 6 or 7 years old. My great-grandmother on each side — one taught me to knit, and one taught me to crochet," she said. "Now, at the time, I was — it was not prophetic for me. It was punishment, as far as I was concerned, because I wanted to talk; I wanted to be out doing. They were like, 'No, come sit your behind down and learn how to do this.'"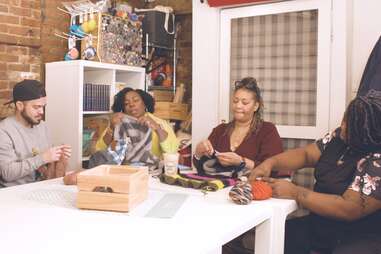 Now, at her own store, Eve has created a space for others to gather on Friday nights. "Knit Night is like a club," she explained. "The windows are sweaty. Like, the people in line going to the dance in a ramen place next door to us stick their head and go, 'What are you guys doing in here?' Like, 'We're knitting. You can come in if you want to. Find a spot on the floor, grab a chair.'"
"It is a family that we have built," she continues. "People check on each other. If we don't see [or] hear from somebody after a while, we call 'em, you know?"
String Thing Studio is the only Black-owned yard shop in NYC, according to Eve. "Initially, when I opened, all of my employees, for the most part, have not been women of color," she said. "And customers would come in and assume that they were the owner of the shop, and so we used to call 'em the 'uh-oh moments.' Like, they would say to my employee, 'Oh my God, you have such a beautiful shop.' And she would go, 'Oh, well, actually, it's Felicia's shop.' We got past a lot of that."
While Eve loves what she does and the people she's met along the way, she stills wishes she wasn't the only Black-owned yarn shop in the area. "I'm a unicorn, and in many aspects, I am," she said. "But should it be? Like, we got a Black president. You know, we got all this. This shouldn't be that big a deal."
Eve credits crafting with helping her find a community of female and Black business owners that allows her to relax in a supportive environment. "And when you find your tribe of people who do it with you, you just create this utopia," she said.