Study Says Climate Change Has Increased Violence Against Women
A new study shows that sexual assault, domestic violence, and forced prostitution are more prevalent in parts of the world where desperation for natural resources is at a high.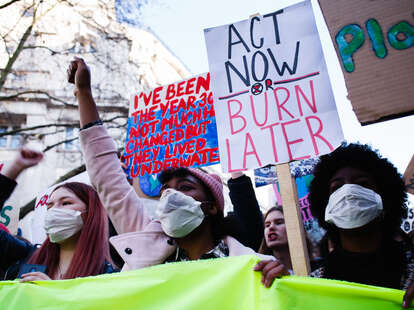 The climate crisis has directly contributed to the increase of violence and exploitation against women and girls, a new study finds.
The International Union for the Conservation of Nature (IUCN) study published on Wednesday found that less developed countries with dwindling natural resources due to climate change has resulted in increased levels of sexual assault, domestic violence, and forced prostitution.
"Environmental degradation now affects our lives in ways that are becoming impossible to ignore, from food to jobs to security," said Dr. Grethel Aguilar, IUCN Acting Director General. "This study shows us that the damage humanity is inflicting on nature can also fuel violence against women around the world – a link that has so far been largely overlooked."
With more than 1,000 specific sources collected over a 10-year period of time, the study linked environmental pressures to gender-based power imbalances. An example was the practice of "sex-for-fish" in parts of Eastern and South Africa, where fisherman demand sex from women in exchange for fish.
Women who are environmental and human rights activists have also experienced an increase in violence, which ultimately results in "suppressing their power, undermining their credibility and status within the community, and discouraging other women from coming forward," the study says.
In Uganda and Australia, research found that severe droughts have caused an increase in substance abuse, which then resulted in more instances of domestic violence.
"Financial pressures associated with the drought were partly the cause of an increase in alcohol and drug consumption by men as a coping mechanism, which resulted in increased violence against women," the study reads.
The droughts also force women to travel greater distances for water sources, which increases their likelihood of a violent attack.
The study goes on to say that marginalized communities and minorities are affected the most from the environmental crisis—including Indegenous populations.
"Many Indigenous women in particular face gender-based and other violence as their communities act to defend their territories, resources and rights from such illegal activities," said Jenny Springer, Director of IUCN's Global Programme on Governance and Rights.