Study: Women Get Half The Lab Space as Men at This Prestigious Institute
There are 56 women scientists at the Scripps Institution of Oceanography. They make up 26% of scientists there overall, but only have 17% of the space.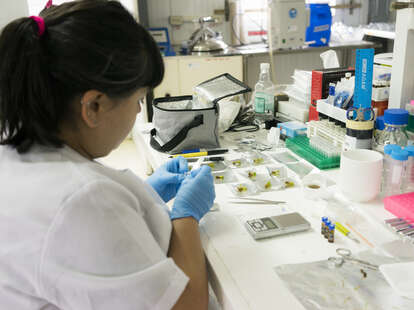 Women scientists at the prestigious Scripps Institution of Oceanography (SIO) were reportedly only given half as much lab space as their male counterparts, according to a report recently released by the research center.
Per the study, there are 56 women scientists at SIO, making up 26% of scientists there overall, but they only have 17% of the available space. All "very large" labs are used by men, as well as 31 of the 32 sought-after storage spaces located on site.
A division of the University of California-San Diego, SIO is widely renowned and is the world's "oldest, largest, and most important centers for marine, earth, and atmospheric science research and public service," per UCSD's website. According to Science.org, the decision to conduct a self-audit was reportedly made in May 2022 by multiple UCSD and SIO leaders, after SIO faculty "raised concerns."
"The space disparity cannot be explained away on the basis of time at the institution, funding expenditures, or group size," the study authors said. "Our analysis points to the existence of widespread, institution-wide cultural barriers to gender equity within Scripps."The findings of the SIO study are depressingly similar to previous investigations that date as far back as a famous 1990s MIT investigation. Leader Nancy Hopkins, a professor and molecular biologist, surveyed biology labs at the university and compiled a report on how women faculty received less space overall than men. A review of the Woods Hole Oceanographic Institution in 2000 had similar findings.
Additionally, a recent study by the American Association of University Women found that women comprise a mere 28% of the workforce in STEM jobs. In addition to being the minority in most of those positions, approximately half of the women in STEM said their gender has hindered success in their job. In a 2018 study by the Pew Research Center, 50% of women in STEM reported experiencing discrimination in the workplace, whereas only 41% of women in non-STEM fields reported discrimination. 19% of men in STEM reported discrimination.
"This is an ongoing problem for everyone at every level," said an unnamed woman SIO faculty member. "This is not just geoscience or Scripps; this is all of STEM."
A committee is being formed to carry out the recommended changes, according to University of California San Diego Chancellor Pradeep Khosla. The recommendations include reassigning available spaces, changing the way space negotiation is handled, and addressing spaces currently occupied by retired faculty.