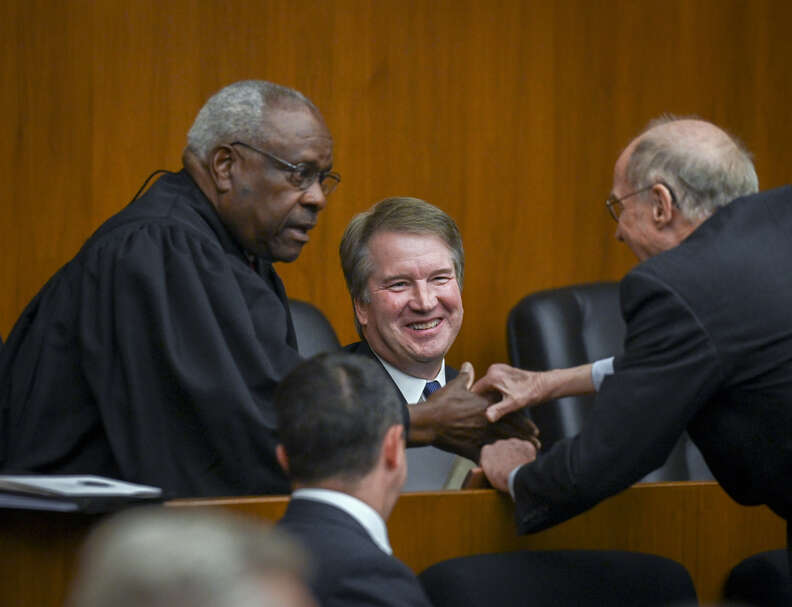 The Supreme Court voted not to reinstate a Wisconsin court's order that called for an extension on accepting mail-in ballots for the 2020 election in light of the COVID-19 pandemic. Justice Brett Kavanaugh wrote a lengthy opinion on the Court's decision to deny hearing the case, signaling a more partisan decision that ultimately sided with Republicans.
The Supreme Court on Monday voted 5-3 against allowing the key swing state to accept ballots for up to six days after voting concludes on November 3 — despite ruling last week to allow Pennsylvania to count ballots for up to three days after the election.
The decision could underscore the Court's future decision in any potential case regarding the outcome of the presidential election between President Donald Trump and former Vice President Joe Biden. The ruling came just before Justice Amy Coney Barrett was confirmed to the Court on Monday night.
Recent polls in Wisconsin showed that President Trump was trailing behind Democratic presidential nominee Joe Biden, despite Trump winning the state by a narrow margin in 2016. According to the New York Times, the Wisconsin Democratic party is now searching for nearly 326,000 mail-in ballots that have not been returned yet following the Supreme Court's decision.
Chief Justice John Roberts, who voted not to hear the Wisconsin case, wrote that the difference between Pennsylvania and Wisconsin was that the latter "presents different issues" because it involves "federal intrusion on state lawmaking processes."
Kavanaugh, a conservative justice nominated to the Court in 2018 by President Trump, previously worked on former President George W. Bush's election legal team in 2000. The team argued at the time that Florida officials should count mail-in votes after the election — a key state that helped win Bush the election over Democratic presidential nominee Al Gore, who won the popular vote. Justices Barrett and Roberts also worked on Bush's legal team.
"For important reasons, most states, including Wisconsin, require absentee ballots to be received by election day, not just mailed by election day," Kavanaugh wrote on Monday. "Those States want to avoid the chaos and suspicions of impropriety that can ensue if thousands of absentee ballots flow in after election day and potentially flip the results of an election."
Some argued that Kavanaugh's decision and prior court cases he cited in his opinion did not accurately portray the reasoning for his vote, signaling a decision made based on politics.
Justice Elena Kagan, a liberal who dissented on the case, fired back at Kavanaugh's opinion, writing that the move would "disenfranchise large numbers of responsible voters." She goes on to cite the potential health risks of in-person voting and long wait times, along with "unusual delays in mail delivery." Kagan also said voting rules and deadlines were established in a pre-pandemic world and are not applicable now.
"Justice Kavanaugh alleges that 'suspicions of impropriety' will result if 'absentee ballots flow in after election day and potentially flip the results of an election,'" Kagan wrote. "But there are no results to 'flip' until all valid votes are counted. And nothing could be more 'suspicio[us]' or 'improp[er]' than refusing to tally votes once the clock strikes 12 on election night."
President Trump and other Republican leaders have for months touted the unfounded theory that mail-in voting leads to voter fraud. Health experts have recommended since the pandemic began to stay away from large crowds of people to help curb the spread of COVID-19, leading to millions of Americans requesting mail-in ballots out of caution.
Kavanaugh and Roberts' reasoning on the Wisconsin case echoes the Trump attack on mail-in votes, despite Wisconsin repeatedly breaking state records with new daily COVID-19 cases in the last month.