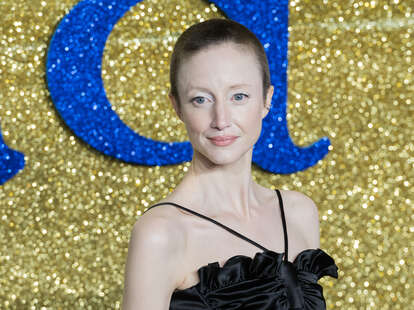 This morning, nominations for the 95th Academy Awards were announced, leading to a ton of opinions on the surprises and snubs. Some of the biggest highlights include that no women filmmakers were nominated for the best director Oscar after 2 consecutive years of female winners, Angela Bassett became the first actor to be nominated for a Marvel film, and no Black women were nominated in the best actress category, despite strong showings from Viola Davis ("The Woman King") and Danielle Deadwyler ("Till") at prior award shows.
But the biggest surprise of them all might be the inclusion of Andrea Riseborough in the best actress category.
If you haven't been following the nomination race — and, honestly, even if you have — you probably missed hearing anything about Riseborough in the lead up to today's announcement. In just a few short months, Riseborough and her film, "To Leslie," went from a low-budget, festival favorite (it only earned $27,322 in the box office) to an Oscar award contender. Even the live audience at the nomination ceremony seemed surprised.
While most Oscar campaigns are lavish affairs, complete with press junkets, big studio pushes, and For Your Consideration ads in every trade publication, Riseborough's nomination seems to have happened largely via word-of-mouth within Hollywood networks. Beginning with a couple of private screenings hosted by Charlize Theron and Gwenyth Paltrow, the film, and Riseborough's performance, quickly grew into a full-fledged, actor-led grassroots social media campaign — a "cause célèbre," if you will.
Riseborough's chances as a dark horse nominee picked up steam just 2 days prior to Oscars voting, which began on Jan 12. By then, it seemed like everyone in Hollywood was posting about Riseborough and "To Leslie," including Kate Winslet, Susan Sarandon, Helen Hunt, Zooey Deschanel, Melanie Lynskey, Mira Sorvino, and Edward Norton.

Today, it seemed the push actually paid off, with one movie columnist calling it "the most successful DIY campaign the acting races have seen in ages."
Even Riseborough seemed surprised by the nomination. "I'm astounded," she told Deadline. "It's such an unexpected ray of light. It was so hard to believe it might ever happen because we really hadn't been in the running for anything else. Even though we had a lot of support, the idea it might actually happen seemed so far away."
Prior to today's surprising nomination, Riseborough was best known for supporting roles in "Birdman," "Oblivion," and "Battle of the Sexes," as well as a starring role in the 2020 horror film "Possessor." Today's Oscar nom's her first. She was previously nominated for a Chicago Film Critics Association Awards and an Independent Spirit Award for her role in "To Leslie."
Check out the full list of the 2023 Oscar nominations here.