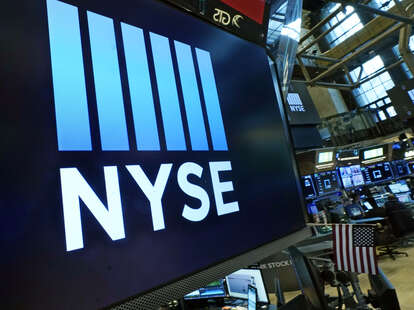 Logos the New York Stock Exchange adorn trading posts, on the floor, Wednesday, March 16, 2022. Photo Credit: AP Photo
Logos the New York Stock Exchange adorn trading posts, on the floor, Wednesday, March 16, 2022. Photo Credit: AP Photo
NEW YORK (AP) — Wall Street is rising further Thursday, led by excitement around tech stocks following the earnings report of Facebook's parent company.
The S&P 500 was 0.9% higher in early trading a day after hitting its highest level since the summer. The Nasdaq composite was 2.4% higher, as of 9:47 a.m. Eastern time, while the Dow Jones Industrial Average was lagging because it has less of an emphasis on tech. It was down 194 points, or 0.6%, at 33,898.
Meta was helping to lead the way with a 19.6% leap after it reported better revenue for the latest quarter than analysts expected and said it expects to spend less this year than earlier forecast. While its latest profit fell short of expectations, Facebook's parent also announced a program to buy back $40 billion of its stock, which puts cash directly in the pockets of shareholders.
Other Big Tech companies are set to report their results after trading closes for the day, including Apple, Amazon and Google's parent company, Alphabet. Each rose more than 2%.
Stocks had already been on the upswing through the start of the year on hopes that the Federal Reserve may be set to pause soon on its hikes to interest rates. Such increases help stamp out inflation but also hurt the economy and investment prices.
A day earlier, stocks and bonds took off after Fed Chair Jerome Powell said the central bank is finally starting to see progress in its battle against inflation. Markets took that as a cue that a pause may indeed be imminent, and investors even raised bets for a cut to interest rates late this year. Rate cuts act like steroids for markets, juicing prices and providing support for the economy.
Treasury yields dipped further Thursday, an indication of expectations for an easier Fed. The yield on the 10-year Treasury, which helps set rates for mortgages and other important loans, fell to 3.37% from 3.42% late Wednesday. The two-year yield, which moves more on expectations for the Fed, fell to 4.08% from 4.10%.
That's despite Powell saying on Wednesday that a couple more rate hikes will likely be appropriate to get inflation down to the Fed's target. He also said he did not foresee any rate cuts in 2023 and again pledged to "stay the course until the job is done" on beating inflation.
The disconnect between the Fed and investors could be setting markets up for disappointment and losses if the central bank sticks to what it's been saying.
"This leaves room for a rude shock down the road," said Venkateswaran Lavanya of Mizuho Bank in a report.
Across the Atlantic, central banks for Europe and the United Kingdom also raised rates in their efforts to squelch inflation.
The European Central Bank raised its key rate by 0.50 percentage points and said another would arrive next month. The Bank of England also raised its key rate by half a percentage point.
European stocks were mostly higher, with the German DAX returning 1.7%. The FTSE 100 in London was up 0.8%.
Moves in Asia were more modest, with Hong Kong's Hang Seng down 0.5% and Japan's Nikkei 225 up 0.2%.
The next big event for Wall Street will be the Big Tech earnings coming after the market's close. Because these stocks are the biggest by value, their movements carry more sway on the S&P 500 and other indexes.
After those will be Friday's jobs report, where economists expect to see a slowdown in hiring. The job market has largely remained resilient even in the face of swift rate hikes by the Fed over the last year.
Big tech companies have announced high-profile layoffs recently, but a report on Thursday suggested job cuts are not that widespread. Fewer workers applied for unemployment benefits last week than expected, and the number dropped to its lowest level since April.
____
BY STAN CHOE, The Associated Press