Teen Who Was Incarcerated After Not Doing Schoolwork Won't Be Released, Judge Says
A 15-year-old has been detained in Oakland County, Michigan, since May after her caseworker learned she failed to do her schoolwork one day and a judge ruled that she had violated the terms of her probation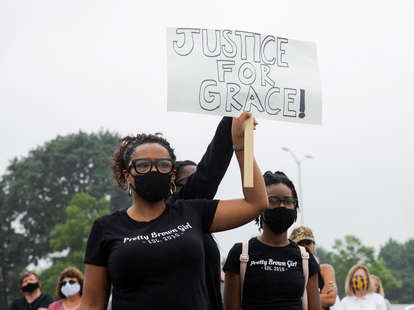 Reuters/ Emily Elconin – People protest in support of a Groves High School Black student (Grace), who was jailed due to a probation violation of not keeping up with her online schoolwork,
A high school student who was sent to juvenile detention in May after violating the terms of her probation by not doing her online schoolwork must remain at the detention center, a Michigan judge decided Monday. The 15-year-old's case has caused outrage, with many saying it underscores systemic racism in the juvenile justice system.
During a three-hour proceeding on Monday, Oakland County Judge Mary Ellen Brennan denied a motion for the girl's early release, saying she should complete her treatment at the detention center, The Detroit News reported. The teen had originally been put on probation in April, following theft and assault charges after she assaulted her mother in November, but was then detained in Oakland County in May after her caseworker learned she failed to do her homework one day and a judge ruled that she had violated the terms of her probation.
"Give yourself a chance to follow through and finish something," Judge Brennan said on Monday. "The right thing is for your and your mom to be separated for right now." The judge's comments come despite the fact that the teen's mother "testified that her daughter had not caused her any physical harm during the probation period," according to ProPublica.
The student, identified under the pseudonym "Grace," received national attention after a ProPublica Illinois report detailed her case and incarceration, published on July 14. According to the report, Grace, who is Black, has attention deficit hyperactivity disorder and receives special education services. Following the assault charge against her, as well as a larceny charge filed weeks later, a virtual juvenile court hearing was held for Grace in April. Judge Brennan sentenced Grace to "intensive probation" at the hearing, which included regular check-ins with a court caseworker, no phone, the use of the school laptop for educational purposes only, and the requirement that Grace do her schoolwork.
ProPublica reported that Grace's probation coincided with schools pivoting to remote learning because of the COVID-19 pandemic and that her mother, Charisse, was concerned that the high school sophomore would have trouble learning without in-person support from teachers. Grace also told her new caseworker she felt anxious about the probation requirements. Five days later, after calling Charisse, the caseworker learned that Grace had fallen back to sleep after her morning check-in, and filed a violation of probation against her for not doing her schoolwork. At a May 14 hearing, Brennan ordered that she be detained at Children's Village in Oakland County, Michigan, a juvenile detention center, despite Charisse saying Grace had been handling her work responsibly and behaving.
The ProPublica report also noted that Grace's teacher had responded in an email to the caseworker saying Grace was "not out of alignment with most of my other students."
"Let me be clear that this is no one's fault because we did not see this unprecedented global pandemic coming," the teacher wrote.
Many observers and elected officials have said that Grace's incarceration underscores racial biases in the justice system.
"If it was a white young person, I really question whether the judge would have done this," Rep. Debbie Dingell, (D-MI) told MSNBC on Monday. "Putting a young person in a confined area in the midst of COVID isn't the answer."

Rep. Andy Levin (D-MI) said her sentencing "has unnecessarily separated a child from her mother during a global pandemic and put both at risk." Rep. Brenda Lawrence (D-MI), who represents parts of Oakland County, called the decision to detain Grace "more than disturbing." Hillary Clinton also reacted to Judge Brennan's decision on Twitter Monday, saying simply, "Let her go."
The nonprofit Michigan Center for Youth also condemned Brennan's decision.
"Here is another instance of where a youth on probation was put in a confined setting for a behavior that is not a crime," the group's executive director Mary King said in a press release. "We only know about Grace because the mother reached out to a reporter. Because there is no system for reporting such situations on the youth justice system, we have no idea how many other 'Graces' there are."
Criminal justice reform advocates are also using the case to highlight the importance of local races.
In a recent statement, Charisse said she was grateful for the support and attention from individuals around the country. People have been using the hashtag #FreeGrace on Twitter and more than 97,000 people have signed a Change.org petition called "Stop the School to Prison Pipeline" for Grace's case.
"While we attempt to untangle the web that now confines my daughter and keeps her away from me, her family and the support that she needs, I want to thank the seemingly endless number of people who have expressed their concern and offered their support," she said.
ProPublica also reported that Monday's hearing was the first time Grace and her mother "have had physical contact since May 14 because of COVID-19 restrictions." They "embraced for more than a minute" and "sobbed audibly through their masks before leaving the courtroom separately."
The Michigan Supreme Court is currently reviewing Grace's case, according to The Detroit Free Press, and have until July 24 to respond.