Texas Abortion Ban Is Back In Effect, Fifth Circuit Court of Appeals Rules
The ban had originally been paused for less than 24 hours by a federal judge on Monday.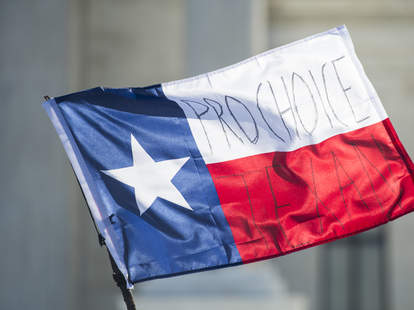 Texas will be allowed to move ahead with a temporary ban on abortion amid the coronavirus pandemic, the Fifth Circuit Court of Appeals ruled Tuesday afternoon. According to a report by CBS, those who are found violating the ban face "penalties of up to $1,000 or 180 days of jail time."
Following Texas Gov. Greg Abbott's (R) March 22 executive order that all "non-essential" medical procedures be halted during the pandemic, and Texas Attorney General Ken Paxton's (R) assertion that abortion clinics be included in the list of "unnecessary" procedures, the Center for Reproductive Rights, Planned Parenthood Federation of America, and the Lawyering Project asked a federal court for a temporary restraining order on the measure, saying that it was unconstitutional.
U.S. District Judge Lee Yeakel agreed with the reproductive rights advocates and granted a restraining order on March 30, which was set to last until April 13.
"Regarding a woman's right to a pre-fetal-viability abortion, the Supreme Court has spoken clearly. There can be no outright ban on such a procedure," Yeakel wrote while authorizing the restraining order. 
Following the judge's order, a spokesperson for Paxton's office told CBS that they were "disappointed by the court's decision" and that Paxton would seek "appellate review promptly." The appeals court ended up reversing the order on Tuesday afternoon. 
Texas' attempted abortion suspension happened shortly after Ohio Attorney General Dave Yost (R) ordered several abortion providers in the state to halt procedures during the coronavirus pandemic, calling the providers "nonessential or elective." Iowa, Mississippi, and Oklahoma are also attempting to temporarily suspend abortion procedures, citing the coronavirus pandemic and medical supply preservation as reasons.
In response to the suspension, health care associations, including those from the American College of Obstetricians and Gynecologists and the American Association of Gynecologic Laparoscopists, have argued that abortions are very much essential as well as time sensitive.