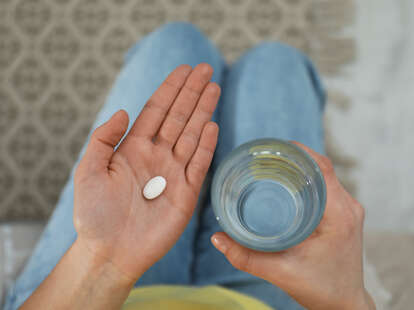 A Texas man is suing three of his ex-wife's friends, alleging they violated state law by helping her obtain abortion pills. This lawsuit—believed to be the first of its kind after the Supreme Court overturned Roe v. Wade in June—is testing a Texas state law that took effect following the justices' decision. The law allows for the filing of a wrongful-death lawsuit against anyone who aided a person in obtaining an abortion.
Even before the law initially passed in 2021, reproductive rights activists warned that Texas' S.B. 8 (a.k.a. the Texas Heartbeat Act) could effectively turn state residents into "vigilantes" and "bounty hunters" against medical personnel and private citizens who were perceived as aiding pregnant people in seeking abortions.
Marcus Silva filed the lawsuit on March 9 in Galveston County, reportedly seeking more than $1 million in damages from the women. Silva's ex-wife was not named in the case, as she is exempt from liability under Texas law as the one who had the abortion.
Silva claims that two defendants shared information via text about how to end a pregnancy after his ex-wife discovered she was pregnant in July. It alleged the third defendant arranged for the delivery of the abortion medication. The women also allegedly discussed deleting their text messages about the abortion. Silva's lawsuit is largely based on screenshots of text messages between the four women.
His ex-wife filed for divorce in May, the Texas Tribune reports, citing court filings. The divorce was finalized last month, according to the lawsuit.
Silva is being represented by Republican state Rep. Briscoe Cain, as well as Jonathan Mitchell, a former solicitor general who helped draft the Texas Heartbeat Act.
"This is an outrageous attempt to scare people from getting abortion care and intimidate those who support their friends, family, and community in their time of need," Autumn Katz, a Center for Reproductive Rights lawyer, said in a statement. "The extremists behind this lawsuit are twisting the law and judicial system to threaten and harass people seeking essential care and those who help them."