Scenes From America's Most Packed Sports Stadium Since The Pandemic
Critics have condemned Texas for allowing the gathering at the Texas Rangers' home opener.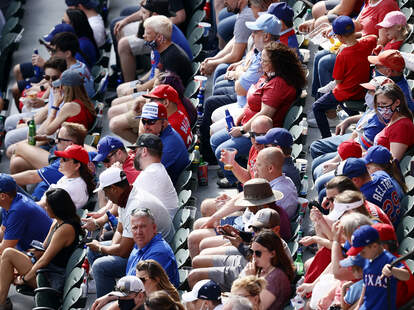 The Texas Rangers on Monday night welcomed a packed crowd to their Major League Baseball home opener, nearly a month after Gov. Greg Abbott (R) lifted COVID-19 restrictions, including mandatory mask-wearing, and urged businesses to reopen.
The Rangers lost 6-2 to the Toronto Blue Jays at Globe Life Field in Arlington. The home team announced a sold-out crowd of more than 38,000 people — ultimately playing "in front of the largest crowd at a sporting event in the United States in more than a year," as described by The New York Times.
While the Rangers said masks were required, photos from the home opener show largely maskless crowds filling up the stadium's entire capacity — which would be impossible nearly anywhere else, given most MLB teams are limiting crowds at 25 percent capacity.
Critics have condemned the state for allowing the gathering. In an interview with CNN, Rep. Sheila Jackson Lee (D-TX) called the packed stadium a "disaster." Lee added: "I'm enormously disappointed. It was a wrong confrontation in the face of reality."
Before the game, President Joe Biden had called the decision to fill the stadium "a mistake."
For most of the U.S., such a crowded public gathering remains largely off-limits, even as the country sets new records for daily vaccinations. Like the country, Texas' daily COVID-19 case numbers and deaths have declined in recent weeks, though variants of the virus present a major reason to stay vigilant.
Gov. Abbott was invited to throw the opening pitch, but declined because the MLB last week announced it was pulling its All-Star Game out of Georgia over its recently passed voting restrictions law. The MLB has reportedly eyed Denver as the new host for the game.
Fans look on as the Texas Rangers take on the Toronto Blue Jays in the fourth inning on Opening Day at Globe Life Field on April 05, 2021 in Arlington, Texas.

| Getty Images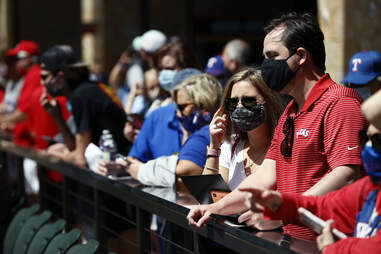 Fans look on during batting practice before the Texas Rangers take on the Toronto Blue Jays in the Rangers home opener at Globe Life Field on April 05, 2021 in Arlington, Texas.

| Getty Images
Fans walk to their seats during batting practice before the Texas Rangers take on the Toronto Blue Jays in the Rangers home opener at Globe Life Field on April 05, 2021 in Arlington, Texas.

| Getty Images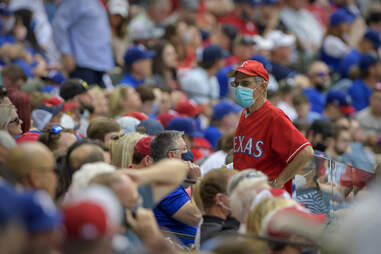 A view of a fan wearing a mask during the fifth inning of the game between the Texas Rangers and the Toronto Blue Jays at Globe Life Field.

| Reuters
A view of a Coca-Cola Coke logo and the fans and the stands during the first inning of the game between the Texas Rangers and the Toronto Blue Jays at Globe Life Field.

| Reuters
A view of the field and the fans and the ballpark and the players during the playing of US and Canadian national anthems before the game between the Texas Rangers and the Toronto Blue Jays at Globe Life Field.

| Reuters