Texas Republican Apologizes After Calling Simone Biles A "National Embarrassment" In Now-Deleted Tweet
"In a moment of frustration and disappointment, I opined on subjects for which I am not adequately versed," TX Deputy Attorney General Aaron Reitz said after taking aim at Biles.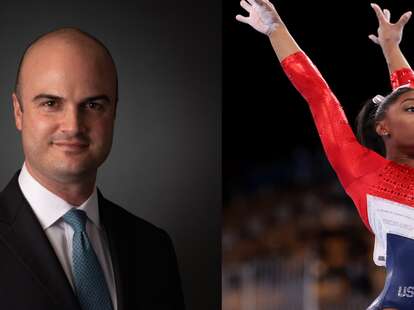 After calling Simone Biles a "national embarrassment," a Texas Deputy Attorney General said he owes the GOAT "an apology. A big one."
Biles, who lives in a suburb north of Houston, withdrew from the women's gymnastics team final at the 2020 Olympics. USA Gymnastics confirmed that the four-time Olympic gold medalist would not compete in the individual all-around event in order to prioritize her mental health.
"We wholeheartedly support Simone's decision and applaud her bravery in prioritizing her well-being," USA Gymnastics said in a statement. "Her courage shows, yet again, why she is a role model for so many."
Not everyone saw Biles' decision as courageous, including Texas Deputy Attorney General Aaron Reitz. On Tuesday, Reitz quote-tweeted a video of former Olympic gymnast Kerri Strug competing with an injured ankle during the 1996 games in Atlanta and wrote, "Contrast this with our selfish, childish national embarrassment, Simone Biles."
On Wednesday, after he deleted the initial tweet, Reitz tweeted about Biles again — this time to apologize.
"In a moment of frustration and disappointment, I opined on subjects for which I am not adequately versed," Reitz said in a statement. "I can't imagine what Simone Biles has gone through."
Reitz called Biles a "true patriot and one of the greatest gymnasts of our time."
Reitz's initial comments received blowback from his boss, Texas Attorney General Ken Paxton.
"I know Simone Biles — she is a fantastic athlete but an even better person," Paxton said in a statement. "Mental health is far more important than any athletic competition and I fully support her decision."
The office of the Texas Attorney General said on Twitter that Reitz's "very inappropriate and insensitive tweet" will be "handled internally."
Reitz is not the only conservative who took aim at Biles' decision to pull out of the two competitions. Conservative commentator Charlie Kirk, who doesn't have an Olympic medal, let alone competed for one, called Biles "selfish," a "sociopath," and a "shame to the country." Kirk also said Biles — the most decorated gymnast of all time — represents how America is "raising a generation of weak people."
Despite some criticism, words of encouragement cut through
Sponsors, athletes, and former first lady Michelle Obama have spoken out in support of Biles.
Following her withdrawal from the team competition, Athleta said it stands by Biles.
"Being the best also means knowing how to take care of yourself," Athleta said in a statement. "We are inspired by her leadership today and are behind her every step of the way."
"I want to remind people, Simone Biles is human, and every single athlete — no matter how successful they are, every single athlete has good days and bad days, and every athlete has performances, they look back, they wish they did better," Aly Raisman, a six-time Olympic medalist who used to be Biles' teammate, told CNN on Tuesday.
Biles thanked her supporters in a tweet Wednesday night.
"The outpouring love & support I've received has made me realize I'm more than my accomplishments and gymnastics which I never truly believed before," Biles said.
On Tuesday, after Biles' withdrawal, the U.S. women's gymnastics team won the silver medal in the team final. Biles' teammate, Sunisa Lee, won the gold medal in the women's all-around event Thursday. Biles has not announced whether she will compete in the individual vault, bars, floor, and balance beam finals next week.