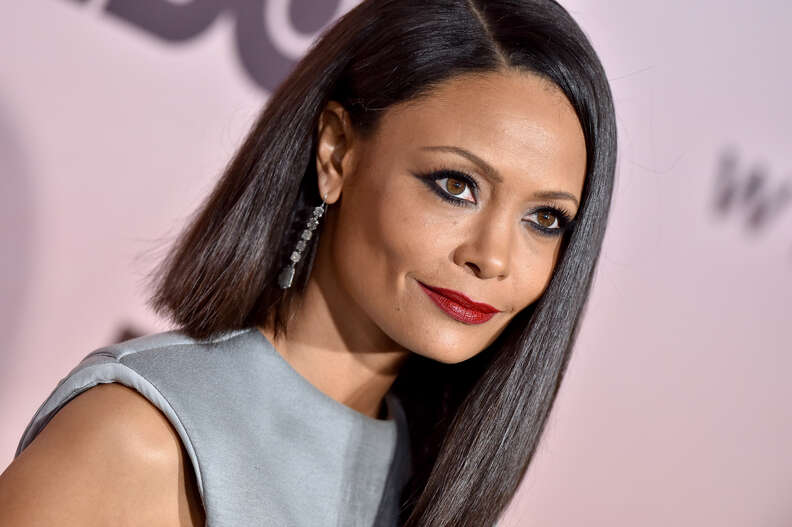 Thandiwe Newton attends the premiere of HBO's "Westworld" Season 3 at TCL Chinese Theatre on March 05, 2020 in Hollywood, California.

| Getty Images
Thandiwe Newton attends the premiere of HBO's "Westworld" Season 3 at TCL Chinese Theatre on March 05, 2020 in Hollywood, California.

| Getty Images
Actor Thandiwe Newton's name has been misspelled as "Thandie" for the entirety of her career and finally, she said, she's reclaiming the original spelling.
On the cover of British Vogue's May issue, Newton, 48, said in an interview published on Sunday that she would now use the rightful spelling of her name. Newton told the magazine Thandiwe means "beloved" in Shona, a Bantu language widely spoken in Zimbabwe where her mother was a princess.
According to the Vogue interview, the W in Newton's first name was "carelessly" forgotten when she was credited with her first acting role. The magazine did not specify which film, but Newton's first credit on IMDb is for the 1991 movie "Flirting," in which she played a character named Thandiwe Adjewa and was credited as "Thandie."
"That's my name," Newton told British Vogue. "It's always been my name. I'm taking back what's mine."
Newton has been vocal about the racism and abuses of power she faced over her nearly three decade acting career. She said in an interview with Vulture in 2020 that she pulled out of the 2000 movie "Charlie's Angels" because Sony executive Amy Pascal wanted Newton's character to be stereotypically sexy and didn't think she'd be "believable" as a college-educated Black woman. (Pascal told Vulture that she was "horrified to hear" Newton's account, takes it seriously, and has "no recollection of the events she described.)
"I've been too Black, not Black enough," Newton told Vogue. "I'm always Black. I'm just like, whadda you people want!"
She continued: "The thing I'm most grateful for in our business right now is being in the company of others who truly see me. And to not be complicit in the objectification of Black people as 'others', which is what happens when you're the only one."
In recent years, Newton has also spoken openly about being groomed and sexually abused by Australian director John Duigan starting when she was 16 and he was 39. Newton also spoke to CNN in 2013 — before the #MeToo movement gained a resurgence— about being exploited by a casting director when she was a teenager, who she said asked her to perform sexually explicit actions on camera during an audition.
According to the British Vogue interview, Newton's traumatic introduction to Hollywood led to her developing an eating disorder.
"I was lying in bed, so thin, and my heart was beating against my ribcage so hard that I could see it, and my friend Jessica called. I said 'Jessica, I'm worried I'm going to die.' And that was it. I suddenly realised there was something very, very dangerous and dark within," Newton said.