The All-Women Rowers Who Crossed the Pacific & Brought Joy to the Internet
"It's really important to have a couple people in your life that you can really be all of your colors with. And this group of women was that for me. And we were that for each other."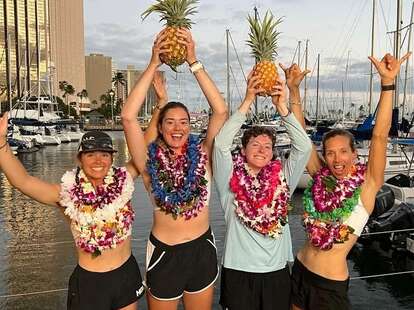 An all-women rowing team successfully crossed the Pacific Ocean last month — and brought joy to the internet along the way.
Adrienne Smith, Brooke Downes, Libby Costello, and Sophia Denison-Johnston of the Lat 35 team broke a world record by rowing more than 2,400 nautical miles across the Pacific Ocean, from San Francisco to Hawaii in 34 days, 14 hours, and 11 minutes.
"I got to land and saw how impactful our adventure was for so many people," Smith told NowThis. The women's adventure was documented on @lat35racing's Instagram account and was followed by thousands. From their best Uber Eats impersonation to singing and dancing, the women found ways to entertain themselves throughout the difficult journey.
The team was started by Jason Caldwell, founder of Lat 35, and it's comprised of women from all sorts of backgrounds. Denison-Johnston and Downes are both Olympic hopefuls in rowing. Costello is a UCLA rowing alum. Smith owns a yoga studio and is an Ironman triathlete.
The foursome rowed and took breaks in 2-hour shifts. It's likely they didn't get more than 90 minutes of sleep at a time at any point in their 34-day expedition. During the two hours they had off, they would cook their boil-to-order prepackaged meals, wash their clothes, and (maybe) take a shower. Smith admitted she only washed her hair three times during the 34 days.
The group started preparing in fall 2021 and were ready to handle any emergencies while they were out at sea. They each had to know what to do in case the boat capsized or caught on fire. They also were trained on replacing all the components of the boat in case something started malfunctioning.
For the most part, the trip went smoothly, without inclement weather conditions. But Smith said there was one part that almost caused them to not make it to Hawaii – the auto Tiller. It allowed the women to set their course and use an autopilot Tiller to stay on it. Early on the trip, it just popped off and the boat started spinning, but fortunately they had spares onboard. But after replacing it, the issue just kept happening.
"We were actually on our last auto Tiller within the last, like, four days. We had to worry about like, oh, I hope this doesn't come off because if it does, we are out of options," Smith said. When they pulled into Hawaii, that last auto Tiller was still intact, however.
While their main goal was to break the world record, the women also strived to make the mission about something larger than themselves. They used their publicity to raise money for the Anxiety and Depression Association of America.
The small confines of the boat — 29 feet long by 5 feet wide — caused the women to really bond. "It's really important to have a couple people in your life that you can really be all of your colors with. And this group of women was that for me. And we were that for each other," Smith said.