The Black Lives Matter Movement Has Been Nominated For A Nobel Peace Prize
According to multiple reports, the movement against systemic racism that inspired global demonstrations last summer has been nominated for the prestigious award.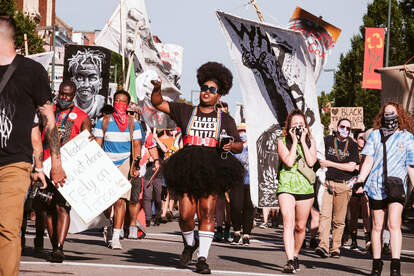 A Norwegian politician has nominated the Black Lives Matter movement for a 2021 Nobel Peace Prize, according to multiple sources.
Norwegian MP Petter Eide has nominated the organization after last summer's months-long protests demanding justice and condemning systemic racism that captured the U.S. and the world. In a statement to The Guardian, Eide praised the movement for "raising global awareness and consciousness about racial injustice."
The organization confirmed the nomination on Twitter saying, "People are waking up to our global call: for racial justice and an end to economic injustice, environmental racism, and white supremacy. We're only getting started."
"I find that one of the key challenges we have seen in America, but also in Europe and Asia, is the kind of increasing conflict based on inequality," Eide told The Guardian. "Black Lives Matter has become a very important worldwide movement to fight racial injustice."
Eide told ABC News that since he nominated the organization, which has faced backlash in the U.S. from mostly Republican politicians and followers, the MP has received "nasty" messages and even threats.
"I have received so many negative responses from individual Americans telling me that Black Lives Matter is a violent and aggressive organization, that they are deliberately using violence as a political communication tool and that nominating them for the Nobel Peace Prize is quite insane," Eide told ABC News. "They were hateful."
Eide said he researched and found studies showed the Black Lives Matter protests were largely peaceful. A study published by The Armed Conflict Location and Event Data Project (ACLED) in September found that 93% of all demonstrations connected to the movement remained peaceful.
"Most of those incidents of violence was based on either aggressive police behavior or counter-demonstrations," said Eide. "I'm quite convinced that Black Lives Matter is a peaceful organization."
Black Lives Matter was co-founded in 2013 by Alicia Garza, Patrisse Cullors, and Opal Tometi after George Zimmerman was acquitted for the murder of Black 17-year-old Trayvon Martin. The organization said its mission "is to eradicate white supremacy and build local power to intervene in violence inflicted on Black communities by the state and vigilantes."
The movement took on new life in May 2020 after George Floyd was killed during an arrest over an alleged $20 counterfeit bill. Minneapolis police officer Derek Chauvin, who was later fired over the incident, knelt on Floyd's neck for 8 minutes and 46 seconds. The widely-shared video of the incident, captured by a teenage bystander, sparked outrage across the nation and soon, worldwide.
"They have been able to mobilise people from all groups of society, not just African-Americans, not just oppressed people, it has been a broad movement, in a way which has been different from their predecessors," Eide continued to The Guardian.
Eide also pointed out that the negative feedback he's received is not unlike the criticism of Dr. Martin Luther King Jr. being nominated for the Nobel Peace Prize during the Civil Rights movement in the 1960s, or when Albert Luthuli and Nelson Mandela were nominated for their work in South Africa.
"If we go 50 years back, those arguments also came up when Dr. Martin Luther King received the Nobel Peace Prize in 1964 – exactly the same arguments," Eide told USA Today. "And when twice the (African National Congress) leaders of South Africa received the Nobel Peace Prize, there were also incidents of violence. But you can't use that as a counter-argument to say Mandela was not working for justice or peace."
According to other reports, voting rights advocate and former Georgia Rep. Stacey Abrams (D), Russian opposition leader Alexei Navalny, and climate crisis activist Greta Thunberg have also been nominated for this year's Peace Prize
The Norwegian Nobel Committee will decide on the winner no later than October 2021 and will hold the annual Nobel Peace Prize award ceremony in December.