The Importance of Healthcare Resources for the Trans Community
A number of organizations and their allies are working diligently to provide much needed health care resources to protect the physical and mental well-being of the trans community.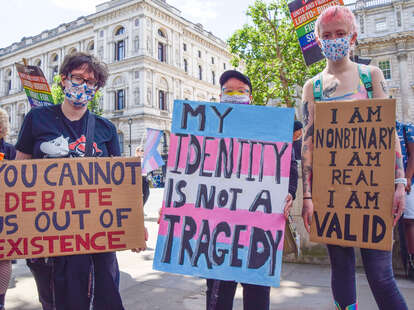 Credit: Getty Images
Credit: Getty Images
As the United States does not have a universal healthcare system, unlike other modern countries, each citizen is left to source their health insurance on their own. But for transgender individuals, navgiating their healthcare and health insurance, specifically as it related to transition-related care, can be a difficult journey.
The National Center for Transgender Equality explains that "federal and state law prohibits most public and private health plans from discriminating against you because you are transgender. This means, with few exceptions, that it is illegal discrimination for your health insurance plan to refuse to cover medically necessary transition-related care." However, there are transgender individuals who continue to battle against discriminatory denials by their health insurers and health care providers. Because of this, outside organizations have taken the initiative to step in to support the transgender community as it relates to their health care needs.
One such organization is the Jim Collins Foundation, which provides financial assistance for transition-related expenses for individuals without health insurance, or for those who have been excluded by their own insurance. The Foundation itself is run by trans individuals and allies, who have a keen understanding of the need for medically necessary transition-related care. By funding gender-affirming surgeries, the Foundation aims to empower individuals in their transition to be their true selves.
Another similar organization is the Kentucky Health Justice Network's Trans Health Advocacy Program. In addition to providing funding for gender-affirming care for Trans Kentuckians, the KHJN provides resources to advocate for the well-being of the trans community. This includes emergency housing, gathering individuals via an online community, and providing advice and assistance on how to navigate health insurance. Their mission emerged after gather data that showed that "seeking health care is a difficult and often triggering or traumatic experience for trans and gender nonconforming (GNC) individuals." The Transformative Freedom Fund of Colorado and the Point of Pride Annual Transgender Surgery Fund provide similar financial resources.
In addition to organizations that are providing financial assistance and resources, Out2Enroll aims to address the root of the problem: health insurance. Out2Enroll provides advice for trans individuals on how to enroll in health insurance, by creating trans-specific insurance guides. These guides are State-specific, and are made to help individuals understand their options by offering appointments with LGBT-friendly experts. These advisors can also help an individual understand and advocate for their rights under the Affordable Care Act.
The Transgender Legal Defense and Education Fund takes this advocacy one step further, by providing a "network of attorneys capable of challenging exclusions and medical necessity denials; launching a national health care helpline for transgender individuals and advocates to receive timely assistance; and educating individuals, transgender organizations, medical and mental health providers and billing offices."
TransHealth is another source of valuable health care information for the trans community. Its website provides a vital list of health clinics in the United States, Canada, and England that specialize in trans health care, which includes primary medical care and support services. The list includes well-known centers like Callen-Lorde in New York City, UCSF's Gender Affirming Health Program in San Francisco, and the Magic City Wellness Center in Birmingham, Alabama, and more.
There are also specific mental health resources available to the trans community, like TransLifeline. TransLifeline operates a hotline and trains operators to provide direct emotional support to trans individuals in crisis. Its website includes a vast library of resources, which discuss topics such as coming out, domestic violence, how to change identity documents, criminal justice reform, and more.
Organizations like these and their allies are working diligently to provide much needed health care resources to protect the physical and mental well-being of the trans community. These groups are performing the necessary work to fill in the gaps left by private health insurers and exclusionary treatment at the hands of cruel, discriminatory providers. Trans individuals can utilize the resources provided by these organizations to advocate for themselves and for better health care conditions for future trans generations.
If you or a transgender individual you love is in crisis, contact the TransLifeline hotline at (877) 565-8860 (U.S.) or (877) 330-6366 (Canada).