The RNC Ended Without A Single Mention Of How Many Americans Died From Coronavirus. (Yes, Really).
They bragged about testing, they praised a vaccine that's not ready, they prayed for "families" and "God's comfort." But they never said who they were praying for — the 180,000 Americans who are now dead because of a virus the President will only refer to in racist terms: "the China virus."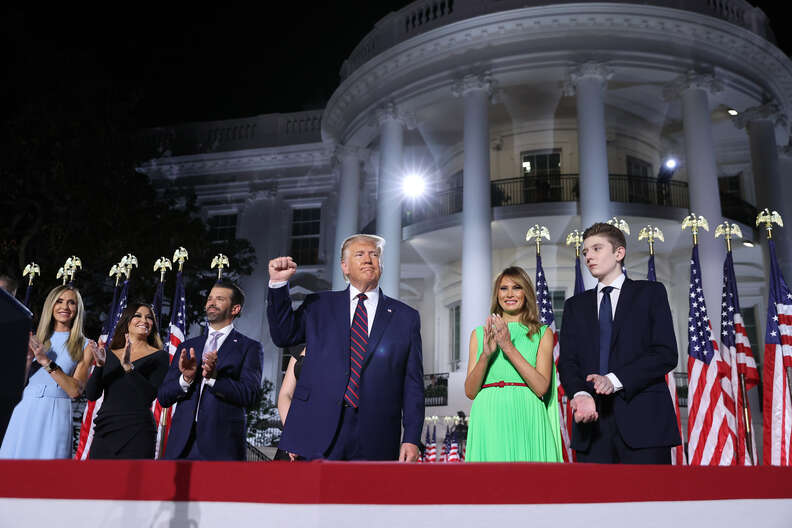 The ruling party's national convention closed out this week without one single mention of how many Americans have died from COVID-19.
As speakers tried to rewrite the history of the last six months, claiming President Trump has done a laudable, effective job at handling the coronavirus crisis, the 180,000 Americans who have died got no specific mention.
In his big acceptance speech for the Republican presidential nomination Thursday night, which lasted 70 minutes, Trump did not say the word "coronavirus" or "COVID-19" once. He only referred to it as the "China virus," twice.
Four speakers, President Trump, Vice President Mike Pence, First Lady Melania Trump, and daughter Ivanka Trump gave condolences to the family members and loved ones of Americans who have died. But they referenced the tangible impact of the crisis in vague terms, without acknowledging the growing U.S. death toll—the highest in the world.
It's a stunning fact to deny, or omit. More Americans have died in the last four months than at any other time in U.S. history with one exception: the 1918 Spanish Flu pandemic. Americans are dying at a faster rate than in the Civil War or World War Two.
According to the CDC and the American College of Physicians, the 1918 flu pandemic killed an estimated 195,000 Americans during October of that year alone. Some 675,000 Americans died over the course of the whole pandemic, which reportedly began in April 1918.
More than 180,000 Americans have died this year from COVID-19, according to the Johns Hopkins University tracker. Public health experts think that's a low estimate, and that the number of actual coronavirus cases in the U.S. could be 10 times higher than the confirmed number right now, which is more than 5.8 million.
The U.S. has about 4% of the world's population, but accounts for about 22% of the world's confirmed coronavirus cases. And that's the low estimate. No other country has as many confirmed cases (next in line is Brazil, with 3.7 million cases).
Here's what Trump, Pence, Melania, and Ivanka said (and didn't say) when they offered condolences.
"Many Americans have sadly lost friends and cherished loved ones to this horrible disease. As one nation, we mourn, we grieve, and we hold in our hearts forever the memories of all of those lives so tragically taken. In their honor, we will unite. In their memory, we will overcome."
The president went on to call it the "China virus" and lied about his invocation of the Defense Production Act. He falsely claimed a vaccine will be coming before the end of the year, or "even sooner," despite scientists and health experts cautioning against rushing one and not giving a firm date of when to expect a vaccine.
Reminder: Trump is still pushing to dismantle Obamacare during a pandemic, bringing it all the way to the Supreme Court, which would strip roughly 20 million Americans of health insurance and remove protections for preexisting conditions.
Trump did not mention the number of Americans who have died.
"Tonight, our hearts are with all the families who have lost loved ones. We mourn with those who mourn, and we grieve with those who grieve. And this night, I know millions of Americans will pause and pray for God's comfort to each of you."
He bragged about testing under Trump—a known area that the U.S. has bungled. (Trump has repeatedly said the only reason cases are going up is because testing is going up. That's not true.)
Pence did not mention the number of Americans who have died.
"I want to acknowledge the fact that since March, our lives have changed drastically. The invisible enemy, COVID-19, swept across our beautiful country and impacted all of us. My deepest sympathy goes out to everyone who has lost a loved one and my prayers are with those who are ill or suffering. I know many people are anxious and some feel helpless. I want you to know you are not alone."
She went on to say, "Donald will not rest until he has done all he can to take care of everyone impacted by this terrible pandemic," prompting widespread fact-checking about Trump's reluctance to act during the pandemic and the number of golfing trips he's taken (including as recently as this past weekend).
Melania Trump did not mention the number of Americans who have died.
"As our nation endures this grave trial, I pray for the families who are mourning the loss of a loved one, for those who are battling COVID-19 and for the first responders and the healthcare heroes who remain on the frontline of this fight. The grief, sorrow and anxiety during this time is felt by all."
She exaggerated the administration's positive impact on the economy during this time, claiming "the lowest unemployment in a half century" despite the fact that "unemployment claims remain historically high," according to a report published the same day as her speech in the Wall Street Journal. She also claimed a vaccine would come "very soon," but scientists have not provided a timeline for when this would happen.
Ivanka Trump did not mention the number of Americans who have died.
How did the DNC address the coronavirus?
In a bizarre attack on former First Lady Michelle Obama last week, Trump said of her DNC speech, "Frankly, she should've made the speech live, which she didn't do. She taped it. And it was not only taped. It was taped a long time ago, because she had the wrong deaths."
Michelle Obama said in her speech for the Democratic National Convention that more than 150,000 Americans have died from coronavirus, when by the time her speech aired, it was more than 170,000. And Trump criticized her for lowballing it.
Former President Barack Obama delivered his DNC speech live two days after that, and made sure he had the death toll right.
"Donald Trump hasn't grown into the job because he can't," Obama said. "And the consequences of that failure are severe. 170,000 Americans dead."
When accepting the Democratic presidential nomination the next night, former Vice President Joe Biden said, "Just judge this president on the facts. 5 million Americans infected with COVID-19. More than 170,000 Americans have died. By far the worst performance of any nation on Earth."
Biden continued: "More than 50 million people have filed for unemployment this year. More than 10 million people are going to lose their health insurance this year. Nearly one in 6 small businesses have closed this year. If this president is re-elected we know what will happen. Cases and deaths will remain far too high."
A central theme of Biden's speech was empathizing with Americans who have lost loved ones, calling on his own experiences of losing his wife and baby daughter in a car crash decades ago, and then losing his son to cancer a few years ago.
"I've learned two things," he said. "First, your loved ones may have left this earth, but they never leave your heart. They will always be with you. And second, I found the best way through pain and loss and grief is to find purpose."
Here's where we are after two weeks of party conventions
The death toll now stands at more than 180,000, and climbing, and Trump and co. decided they'd just not mention that part — the number of dead Americans part — of the pandemic at all this week.
Yes, the RNC was filled night after night with untruths, falsehoods, misleading claims, and outright lies. That's a huge problem. But a critically important takeaway people should also have from the RNC is what was not said.
The pandemic isn't over, either.
Thankfully, some enterprising protesters brought an unforgettable display to Trump's supposedly victorious night, as his post-speech fireworks played out over the National Mall (also a Hatch Act violation):
Related—Analysis: RNC Condemned Anti-Racism Protesters, But Praised Police "As The Best Of Us"
CLARIFICATION: The original version of this article said "That means more Americans have died at a faster rate than in the Civil War or World War Two." We have updated it to clarify that "Americans are dying at a faster rate than in the Civil War or World War Two." Some 620,000 Americans died during the Civil War, and 400,000 during World War Two—in both cases, the total number of deaths happened over four years. More than 180,000 Americans have died from COVID-19 this year so far. We apologize for any confusion.