The Show Goes On (From Home) for Talk Show Hosts & Celebs
Jimmy Fallon, Stephen Colbert, and John Legend are just a few celebrities using social media to keep the entertainment coming during the coronavirus pandemic.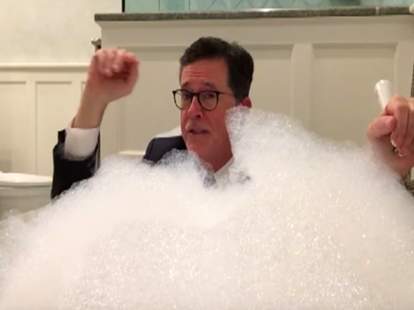 YouTube/ Late Show with Stephen Colbert
The spread of the coronavirus has caused many parts of life to shut down across the country, and that includes daily talk shows and live programs. But several hosts and celebrities are turning to social media to keep their audiences entertained from inside their own homes.
Here are some videos to keep you occupied as you practice self-distancing: 
Jimmy Fallon hosts "The Tonight Show" from his home (with the help of his wife and adorable daughter):
Stephen Colbert hosts "The Late Show" from his bathtub: 
Ellen DeGeneres gets serious about her 4,000 piece puzzle in a four-part Instagram series:
Jimmy Kimmel does a "Minilogue" from his home:
Trevor Noah practices social distancing:
John Legend gives a live concert on Instagram with help of Chrissy Teigen and their kids:
Miley Cyrus started an Instagram live show called "Bright Minded:" 
Demi Lovato even joined her on her second episode: 
Lizzo gave us "meditation and mantra" in this soothing performance: