The Stark Reality of Coronavirus in Prisons & Jails
Millions of incarcerated people are tightly packed with limited access to soap, masks, and basic health care, leading to a spike in COVID-19 cases.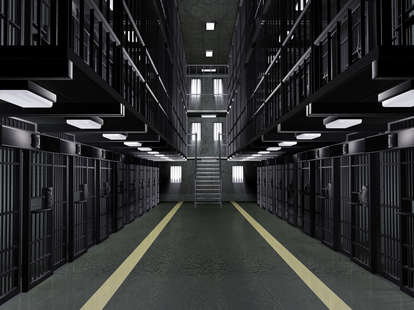 While most states have implemented orders for residents to stay indoors and practice social distancing to stop the spread of coronavirus, many prisons and jails have operated outside of those measures. Inmates are still packed closely together at many facilities, which civil liberties groups have accused of limiting access to soap and masks, leading to an explosion of COVID-19 cases.
Health officials have said that prisons and jails were not prepared for an outbreak of a disease like COVID-19, and that inmates rarely receive even basic health care.
More than a thousand cases have been reported in prisons and jails across the country, which have been bucking public health guidelines on slowing the spread of coronavirus. Prisoners are rioting, and human rights groups have advocated for their early release. Some states and governors have set those policies into motion, while others have not.
In Chicago's Cook County Jail, one of the country's largest jails, only two inmates tested positive for COVID-19 as of March 23, according to NBC Chicago. By April 11, more than 520 inmates and staff members had contracted the virus, leading to three deaths. The Cook County Sheriff's Office moved prisoners from double to single cells on April 12—even though Illinois introduced its stay-at-home order on March 21.
A similar story is playing out in Louisiana, a hotspot for the virus, and the state with the highest prison and pretrial incarceration rates in the world, according to the American Civil Liberties Union. As of Tuesday, the state had more than 21,000 confirmed COVID-19 cases, according to its department of health. The ACLU says prison conditions have made inmates and staff members vulnerable to the virus.
On April 6, the ACLU filed a lawsuit against the Oakdale Federal Prison in Allen Parish, Louisiana, seeking the release of inmates who are at high risk for severe cases of the virus, citing age or underlying health conditions. (The Centers for Disease Control and Prevention has found people over 65 are most at risk). According to an ACLU report, 57% of inmates in Louisiana are incarcerated because of low-level, non-violent offenses.
In Dallas, Texas, the ACLU filed a similar lawsuit against Dallas County Jail, asking that "medically-vulnerable" inmates be released, and that the jail follow social distancing guidelines as well as provide soap and face masks.
In response to the lawsuits, the federal Bureau of Prisons announced on April 9 that it would extend the eligibility for inmates at federal prisons to be released early or transferred to home confinement. In late March, Attorney General William Barr had prioritized early release at federal prisons that were suffering the most from COVID-19, including Oakdale.
The new guidelines described by Politico have removed the BOP's earlier rule that inmates must serve at least 50% of their sentence to be considered for early release. Inmates serving for non-violent or child porongraphy convictions will not qualify. Politico reported that the new early release guidelines were not immediately clear and that some inmates had been taken to prerelease quarantine before being told they were not eligible to go home.
The BOP has also been working through a multi-phase "action plan" for its response to COVID-19, which started back in January. The plan so far has five phases and includes restrictions on visitation, increased health screenings for staff and inmates, and mandating that inmates stay in their cells for 14 days as of April 1, though the BOP says they will be able to leave for mental health services and education.
Some state governors have taken matters into their own hands by using their clemency powers to release incarcerated people. In March, New York Gov. Andrew Cuomo ordered the release of 1,100 people in jail for parole violations. Kentucky Gov. Andy Beshear also released 186 inmates in early April, and plans to release more than 700 others. Other states including Pennsylvania have mandated quarantines for inmates in state-run facilities.
The U.S. has the highest rate of incarcerated people in the world, with an estimated 2.2 million people in federal, state or local facilities. Many inmates live in close quarters and likely have no means of protecting themselves. Rags, hand sanitizer, and soap are not readily available for most detainees.
Lawyers and health officials have advocated for early release, and have said the system is moving too slowly to curb the spread of the virus, according to the New York Times.
"By keeping more people in the jails, you are increasing the overall number of people who contract the virus," David Patton, head of the federal public defender's office in New York City, told the Times. "They are playing roulette with people's lives."
The BOP was still moving federal prisoners between facilities in late March, defying recommended health and safety practices. Earlier that month, Democratic senators sent a letter to the BOP and private prison operators asking what their emergency plans were for inmates and staff as the coronavirus spread.
"Given the spread of the virus in the U.S.—and the particular vulnerability of the prison population and correctional staff—it is critical that [you] have a plan to help prevent the spread of the novel coronavirus to incarcerated individuals and correctional staff, along with their families and loved ones, and provide treatment to incarcerated individuals and staff who become infected," the letter read.
Prisoners at facilities in both Washington State and Kansas started riots last week over the response to the coronavirus and lack of protection by the staff. The coronavirus has infected nearly 2 million people worldwide, including more than 584,000 people in the U.S. According to the BOP, 352 inmates in federal prisons and 189 BOP staff members have been infected as of April 12. At least 10 have died. According to the New York Times, 1,324 cases in prisons and jails have been reported as of April 8, with at least 32 deaths.