The Trump Administration Will Force Some International Students Out Of The Country
International students currently enrolled at universities that are planning to keep classes online are about to become ineligible to remain in the U.S.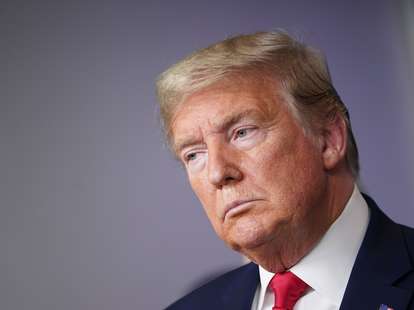 Getty Images
Getty Images
UPDATE — Wednesday, July 8: Harvard and the Massachusetts Institute of Technology (MIT) filed a lawsuit Wednesday morning against the Trump administration over its recently announced policy that would force international students out of the country this fall. Read our latest story here.
Tuesday, July 7: The Trump administration is planning to give international college students in the U.S. an ultimatum: attend classes in-person this fall or get out of the country.
Immigration and Customs Enforcement (ICE) announced Monday the administration's plan to rescind exemptions that allowed international students in the Student and Exchange Visitor Program (SEVP) to remain in the U.S. while they took online classes with their host universities or colleges.
Those exemptions, in effect during the 2020 spring and summer semesters, were allowed as nationwide lockdowns forced students out of classrooms due to the coronavirus pandemic. The move to revoke them comes as COVID-19 cases continue to surge across the U.S. and only a few months before classes are set to resume.
The announcement drew immediate backlash from top democratic lawmakers. Sen. Elizabeth Warren (D-MA) and Kamala Harris (D-CA) both blasted the new policy as "cruel."
"Kicking international students out of the US during a global pandemic because their colleges are moving classes online for physical distancing hurts students," Warren said in a tweet Monday.
Sen. Harris in a tweet Tuesday described the move as "shameful," claiming it "tarnishes America's reputation and competitiveness."
Who will be impacted by this change?
The number of international students in the U.S. reached a record high last year, according to the 2019 Open Doors Report on International Education Exchange. The report says 1,095,299 international students were in the U.S. in 2019, making up 5.5% of all students enrolled in American institutions.
This new rule from ICE will impact a large portion of those international students with certain temporary education visas — specifically F-1 visas for academic students, and M-1 visas for vocational students.
A number of universities have started announcing their fall semester plans with a number of them, including Harvard, choosing to keep courses online due to public health concerns.
The rule announced Monday will make international students currently enrolled at universities that plan to hold upcoming courses exclusively online ineligible to remain in the U.S.
ICE said those international students should leave the U.S. or consider "transferring to a school with in-person instruction."
"We are deeply concerned that the guidance issued today by U.S. Immigration and Customs Enforcement imposes a blunt, one-size-fits-all approach to a complex problem, giving international students, particularly those in online programs, few options beyond leaving the country or transferring schools," Harvard President Lawrence S. Bacow responded in a statement Monday. "This guidance undermines the thoughtful approach taken on behalf of students by so many institutions, including Harvard."
RELATED: President Trump Suspends Visas For Foreign Workers in Latest Anti-Immigration
International students could be exempt from this rule under certain circumstances, like if their university or college offers hybrid courses where instructions happen both online and in-person.
Miriam Abaya, a policy analyst at the Young Center for Immigrant Children's Rights, pointed out in a tweet that this rule will particularly hurt low-income foreign students.
"Going home right now, and at this short notice, is really not an option for so many of these students," she said.
Why the timing of this policy matters
ICE allowed international students to continue their studies online earlier this year as the U.S. grappled with its initial outbreaks of COVID-19. The health crisis forced universities and colleges, as well as many other industries in the U.S., to reevaluate the way they operated.
This shift in stance by the Trump administration comes just months before fall semesters are set to begin, leaving those without in-person class options scrambling to find solutions before time runs out and they're forced to leave the country altogether.
Part of an election-year pattern
The administration's announcement is only the latest election-year decision by a president who has repeatedly moved to restrict access to the U.S. for most people born outside the country.
Last month, as NowThis reported, DHS also slashed a number of employment-based visas for the rest of the year. That move effectively banned a number of temporary foreign workers from entering the U.S. until at least the end of 2020.
The presidential proclamation signed on June 22, restricted: H-2B visas, for seasonal workers; H-1B visas for high-skilled workers, often in STEM fields; L visas, for foreign-born employees of U.S. companies that are based outside the U.S.; and J visas, for scholars, exchange programs, as well as camp counselors and au pairs in some cases.