The U.S. Had A Record Year For New Anti-Abortion Laws. Here's What You Need To Know.
Just six months into 2021, 90 new laws that place restrictions on abortion access have been enacted in several states — which is more than any year since Roe v. Wade.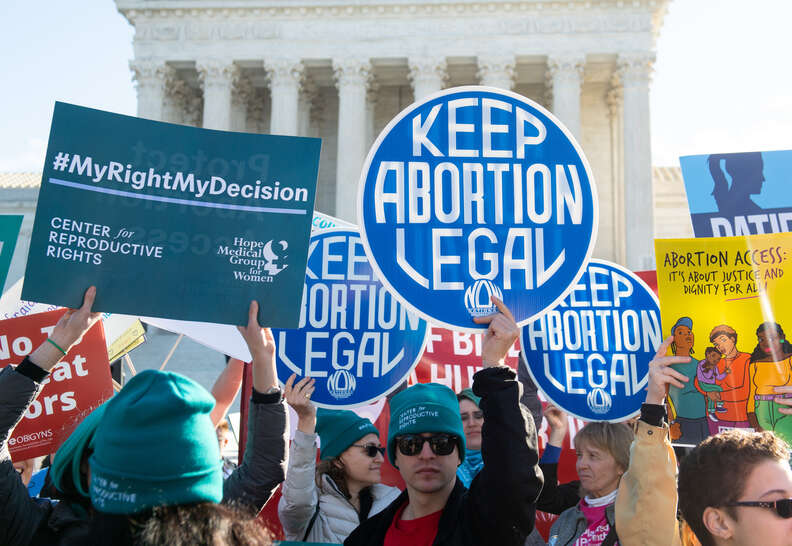 Pro-choice activists supporting legal access to abortion protest during a demonstration outside the Supreme Court in Washington, D.C. on March 4, 2020, while the Court hears oral arguments regarding a Louisiana law about abortion access in the first major abortion case in years.

| Getty Images
Pro-choice activists supporting legal access to abortion protest during a demonstration outside the Supreme Court in Washington, D.C. on March 4, 2020, while the Court hears oral arguments regarding a Louisiana law about abortion access in the first major abortion case in years.

| Getty Images
Attacks on reproductive care in the U.S. have reached a record high in 2021, according to a recent analysis by the Guttmacher Institute. The report found that 90 laws have been enacted in several states this year — more than any other year since the historic 1973 Supreme Court ruling Roe v. Wade made abortion legal in all 50 states.
"2021 has been the worst year on record for state-level abortion restrictions and is a testament to the ways in which politicians are subjecting their constituents to their coercive and inhumane agenda," Alexis McGill Johnson, president of Planned Parenthood Action Fund told NowThis.
The number of new laws this year has topped the previous record of 89 enacted in 2011. The report shows that states have passed 573 restrictions since 2011 and 1,320 since Roe v. Wade.
A 2019 NPR/ PBS News/ Marist poll found that 77% of Americans believe Roe v. Wade should remain in place. 26% of respondents said they would like more restrictions. Only 13% of the U.S. wants the Supreme Court case overturned. NPR notes that the survey indicates the complexity of contradicting opinions among respondents.
How do states restrict abortion access?
State governments have for the last 48 years tried to subvert the constitutional right to abortion by making it increasingly difficult for a person to access the medical procedure. Some states have placed restrictions on abortions after a certain amount of weeks into the pregnancy, enforced unnecessary waiting periods, and have created what's known as TRAP laws, or Targeted Restrictions on Abortion Providers. These laws frequently include irrelevant criteria such as the length and width of hallways in medical facilities, or practicing requirements for medical professionals.
"Eight in 10 people support the right to safe, legal abortion, yet politicians are defying public opinion, science, and the care and respect for the lives of people in their states to make their own personal decision about essential health care," Johnson continued. "The politicians behind these laws are flagrantly defying precedent and the Constitution."
According to Guttmacher, 90% of the 2021 laws were enacted in states that the institute considers "hostile" toward abortion.
Bans on abortion after a certain number of weeks
Multiple states have banned abortions throughout a pregnancy, including most recently in Texas, where Gov. Greg Abbott signed into law a so-called heartbeat bill in May. The law prohibits a medical professional from performing an abortion if they detect a heartbeat from the fetus, which can occur as early as six weeks into a pregnancy. A 2016 study found that on average, women discover they are pregnant at about 5.5 weeks. Idaho, Oklahoma, and South Carolina also enacted similar bans after six weeks, but the Texas law goes one step further by allowing anyone to sue a health care provider or a patient who seeks an abortion past the six-week mark.
Montana passed a law that bans abortions after 20 weeks, while South Dakota placed a ban on abortions after the fetus is diagnosed with Down syndrome. Arizona imposed similar restrictions related to fetal abnormality diagnosis.
States limited access to the abortion pill
Eight states — Arizona, Arkansas, Indiana, Montana, Ohio, Oklahoma, South Dakota and West Virginia — enacted laws this year that limit providers from prescribing abortion medication via telehealth, despite the COVID-19 pandemic forcing many medical professionals and patients to turn to telemedicine.
During the pandemic, the Food and Drug Administration allowed providers to prescribe and send abortion medication through the mail. Also known as the abortion pill, medication abortion can be taken up to ten weeks into pregnancy. Arizona, Arkansas and Oklahoma now prohibit providers from mailing the medication, despite FDA approval. 32 states currently require a physician to prescribe the pill, according to the institute, while 19 states require a medical professional to be present with the patient while they take the medication.
TRAP Laws: Targeted Restrictions on Abortion Providers
Seven states this year have passed laws that force clinics and abortion providers to follow unnecessarily high standards and rules. 23 states in total have current TRAP laws in place, Guttmacher reported. According to the institute, Arkansa and Kentucky passed laws this year that allow the state to close abortion clinics more easily, while Oklahoma passed a law that mandates only board-certified OB/GYN's can perform the procedure. Arizona and Tennessee require the burial or cremation of fetal tissues, and Ohio requires providers to have admitting privileges at a nearby hospital in order to perform an abortion.
TRAP laws have forced clinics to close in the past; between 2011 and 2017, 83 clinics closed in both the South and Midwest because of TRAP laws, according to Guttmacher.
Supporting access to reproductive care
Several organizations including Planned Parenthood, The American Civil Liberties Union, and The National Abortion Federation work to block unconstitutional bills from going into effect and to raise awareness about reproductive health. The nonprofits and volunteers lobby against politicians who try to threaten access to safe and legal abortion.
Learn more about abortion restrictions by state here.