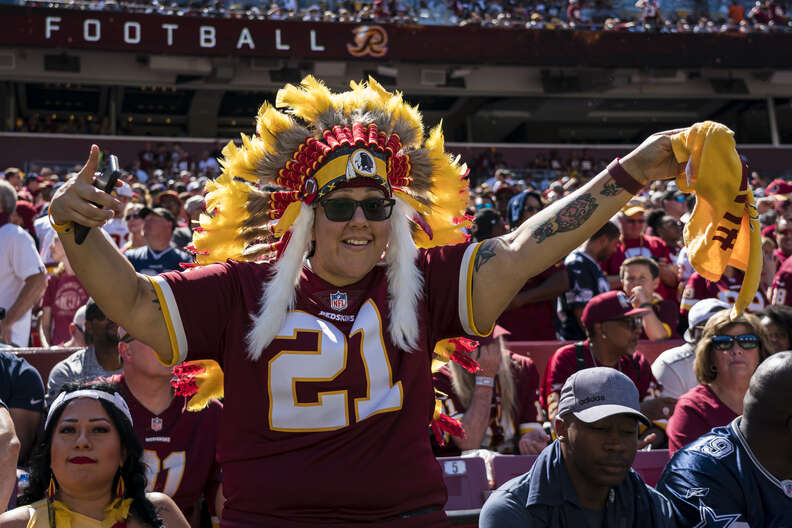 The Washington Football Team announced this week new changes to its stadium policies that include no longer allowing fans to wear Native American-inspired dress.
In a press release on Wednesday, the team said "Native American inspired ceremonial headdresses or face paint" would not be permitted at games. The team didn't elaborate on its decision but it comes a year after it retired the name Redskins for its racist meaning. The franchise switched its name to the Washington Football Team temporarily in July 2020 and said a more permanent name would come in 2022, according to ESPN.
The team — along with other NFL teams — will welcome back fans for the first time this season since the end of 2019.
The NFL franchise dropped the controversial name and logo after years of criticism from activists and sponsors who said it was racist to Native Americans. The change last year came around the same time as the nationwide Black Lives Matter protests when institutions were being called out for racism.
"The [Washington Football Team's] decision to ban Native American-inspired headdresses and face paint from their stadium is another welcome and important step towards eliminating harmful mascots, team names, and racist imagery from American sports," Native American-led nonprofit IllumiNative tweeted.
Professional sports teams including the Kansas City Chiefs and Major League Baseball's Cleveland Indians have made similar changes in recent months. IllumiNative also called on the Atlanta Braves and the Chicago Blackhawks to reassess their mascots and names.
NowThis News reached out to the Washington Football Team for comment.