The Woman Who Falsely Accused A Black Teen Of Stealing Her Phone Has Been Arrested In California
Miya Ponsetto, 22, was arrested on Thursday after deputies had to "forcibly remove" her from her car. The boy's parents called her actions a "disgusting physical and verbal attack that continues to traumatize our family."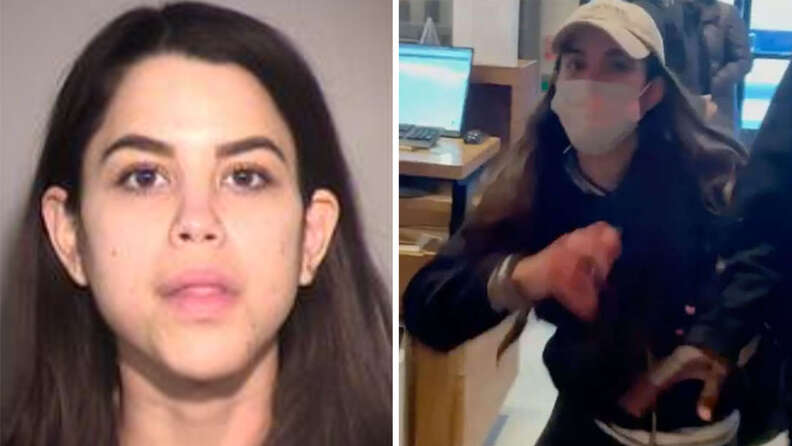 Authorities in California have arrested the woman who assaulted and falsely accused a Black teenager of stealing her cellphone in a New York City hotel during a caught-on-camera encounter that sparked widespread outrage and a petition calling for criminal charges.
The Ventura County Sheriff's Office announced on Thursday that the woman, Miya Ponsetto, was arrested Thursday afternoon in Piru, CA, for a fugitive warrant linked to the hotel assault. According to the sheriff's office statement, she did not stop her car for the deputies until she reached her home, then refused to get out of the car.
"Deputies forcibly removed her from the vehicle and arrested her for the outstanding warrant," the statement read, adding that she is being held without bail. "She will remain in local custody pending an extradition hearing. Detectives from the New York Police Department arrived in Ventura County on Thursday morning to help coordinate the arrest."
In late December, acclaimed jazz musician Keyon Harrold posted a video on his Instagram of Ponsetto (whom some have dubbed "Soho Karen") accusing his 14-year-old son of stealing her cellphone, even though they had just come down from their rooms at the Arlo Hotel. During the incident, which took place in the hotel's lobby, Ponsetto repeatedly accused the teen of stealing her phone, and at one point lunged at him before falling.
In an Instagram post, Harrold said that after the tense confrontation, Ponsetto's phone "was magically returned by an Uber driver."
Hours before her arrest, Ponsetto and her lawyer did a nationally televised interview with Gayle King, in which she stated she "could have approached the situation differently," but that she considers herself to be "super sweet." She also disputed the Uber driver claim, saying "the hotel did have my phone."
In the interview, Ponsetto is wearing a hat with "Daddy" written on it. King said later that Ponsetto's lawyer suggested she take it off, but she refused.
"How is one girl accusing a guy about a phone a crime? Where's the context in that? What is the deeper story here?" Ponsetto asks during the interview, to which King firmly responds, "Miya, that's not the problem. You need to at least understand your actions that day … You seemed to have attacked this teenager about the phone, and then it turned out, he didn't even have the phone."
Ponsetto then interrupts, saying, "Gayle, enough."
Harrold's video prompted widespread outrage online and demand for Ponsetto and the hotel to face consequences for the incident.
"Individual acts of racism are given power by government agents like police and corporations like Quadrum Hospitality Group, LLC, that own Arlo Hotel, that ratify and proliferate structural racism," Civil rights attorney Benjamin Crump has said in a Thursday statement sent to NowThis.
Crump and Harrold's family also created a petition calling on the Manhattan District Attorney to charge Ponsetto with assault and battery, which has garnered over 10,000 signatures.
Harrold and his spouse, Kat Rodriguez, said in a Thursday statement: "This is not about an apology from someone who until a few days ago was claiming she did nothing wrong, and in fact alleged Keyon Harrold Sr. had assaulted her. Someone who targeted a 14-year-old Black child because of the color of his skin."
It continued: "Miya will be dealt with by law enforcement, and hopefully be charged with the assault of our child. We are not interested in what she has to say, in her feigning remorse, and we certainly will not provide her a public platform and audience to do as much." They added, "Our energy right now is directed at the healing of our son, and in bringing attention to the larger societal issues that led to the disgusting physical and verbal attack that continues to traumatize our family."