There's A New And Still-Evolving Strain Of HIV
But doctors say you shouldn't panic over it.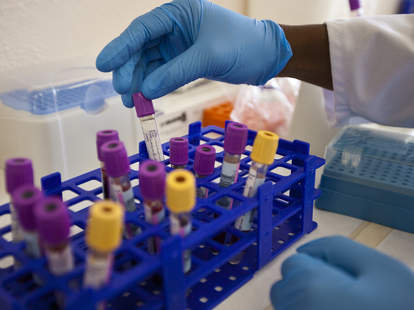 The first new HIV strain in almost two decades has been identified, according to Abbott Laboratories, which confirmed the discovery with researchers from University of Missouri. This new strain is part of the group M version of HIV-1. The findings were published Wednesday in the Journal of Acquired Immune Deficiency Syndromes. 
While the HIV virus can be treated, once contracted, an individual has it for life. HIV is a virus that spreads through bodily fluids and attacks the body's immune system. Contracting HIV can lead to the development of AIDS, or stage 3 HIV. Nearly 37 million people worldwide are living with HIV, according to the World Health Organization.
Researchers say this new strain is still evolving. In order for a new subtype to be named, three cases of the virus must be detected separately, and they were each detected in the Democratic Republic of Congo in Africa.
However, doctors say the shouldn't cause much concern.
"There's no reason to panic or even to worry about it a little bit," Dr. Anthony Fauci, director of the National Institute of Allergy and Infectious Diseases told CNN. It's true that current treatments for HIV are effective for combating the virus. 
Still, since this strain of the virus is newly confirmed and discovered, it remains unclear how this variant of HIV will impact different people. Scientists view this discovery as a reminder that the medical field must stay ahead of this virus, which is constantly adapting.