This Face Mask's Sales Will Benefit The South Asian American Artist Community
Established artists in the South Asian diaspora are coming together to support up and comers who've been hit hard by the economic impacts of COVID-19.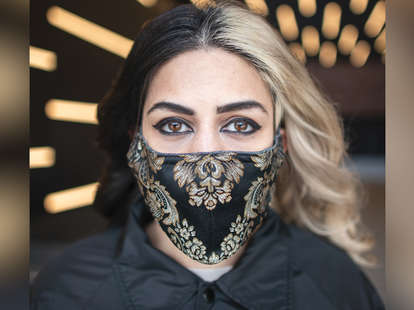 When galleries began shutting down at the onset of the coronavirus pandemic, Sadaf Padder and her fellow artists had to pivot.
Padder canceled multiple exhibits and group shows she had planned for the LIC Arts Open this spring in Queens, New York — although one continued virtually. She also depleted her savings by helping fellow artists make rent, and because she couldn't hire anyone, taught herself basic video editing and website building for Alpha Arts Alliance (A3), the community arts organization that she founded last year in Brooklyn, NY.
A resiliency fund dedicated to artists of South Asian descent came as a form of rescue right when Padder needed it most. She is one of 23 artists (so far) who have received grants from the India Center Foundation (ICF) to continue their creative endeavors during an unprecedented time.
HYFN, a social media community for South Asian diaspora creatives, has produced a face mask and t-shirt, with all proceeds going toward ICF's fund for artists like Padder. The elegant black and gold masks were designed by Nam, the creative force behind Coat of Arms.
"I haven't gotten my stimulus check. It took me three months to finally get a hold of unemployment," Padder told NowThis. "The grant allowed me to refocus and feel like I can reinvest in myself a little bit."
The funding she's received has gone toward the A3 website, an artist interview series on Instagram Live, and plans for VR exhibits. Padder, a former teacher who has advocated for art as a form of therapy, is also hoping to build up A3's youth programming.
"What [the fund] does signal is that [artists are] seen and heard," said Priya Giri Desai, a filmmaker and founding member of ICF. "We wanted to do something that really centered around protecting and giving a platform to artistic and creative forces of the diaspora."
As a mid-career professional, Giri Desai explained that many South Asian artists struggle to make ends meet, and COVID-19 only made it worse. For the team behind HYFN, which launched in 2016, ICF's fund felt like the right solution.
Atif Ateeq, one of HYFN's founders, has spent years establishing himself in the fashion and arts world. He now works regularly with high-profile brands like Carolina Herrera, Swarovski, and Spotify on creative campaigns, and he's known by many South Asian and Muslim Americans for his Halal-Haram line. But despite his name recognition, championing up-and-coming artists continues to hold a special place in Ateeq's heart.
"You have to create an ecosystem that supports, educates, and onboards people into this mindset in a very smart way," Ateeq explained the HYFN model. "We have to share information, we have to educate, we have to mentor."
"I always felt alone and [like] an outsider. There was no one for me to look up to," he said. It wasn't until Ateeq met Himanshu Suri, better known as Heems from hip hop group Das Racist, that he started connecting with his community. "To see somebody else pursuing a creative career just felt so good. That representation validated what I was doing."

HYFN has amplified the work of Anik Khan, a rapper from Queens; Toronto-based artist Babbu the Painter; and the legendary DJ Rekha. Later this year, Ateeq and his partner Humai Mustafa plan to build a HYFN clothing brand and launch an online marketplace for South Asian creatives.
"2021 is about to look really dope from the perspective of South Asian creators," Ateeq said.
In the meantime, HYFN is continuing to work with ICF to fund artists during the COVID-19 crisis. Awardees span multiple fields, including choreographers, poets, novelists, DJs, and directors. The next round of grants is currently underway.
Giri Desai said she believes the arts community is one that will continue to suffer from the economic impacts of the pandemic long after a vaccine is discovered.
"If being stuck at home [during] COVID hasn't taught you that art matters to you or you need it to stay human, I don't really know what will," said Giri Desai. "It's really a moment to value what creative people do for all of us and to, frankly, throw a couple bucks at it."
Learn more about HYFN's initiative here.