This Husband Brings Date Nights to His Pregnant Wife's Hospital Window
Bob Conlin can't to visit his wife at the hospital while she's on bed rest, so he decided to get creative from four floors down.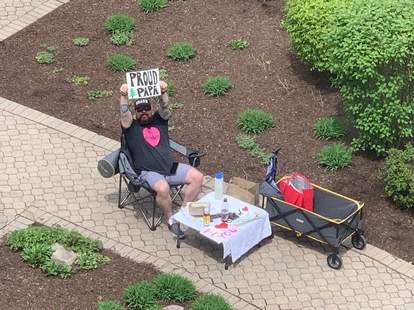 Bob Conlin sits outside of his wife's hospital window for their "date." Facebook/ Bob Conlin
A devoted husband is making sure his pregnant wife gets a date night—even from a distance— while she's on bed rest in the hospital.
In March, Shona Moeller, who was five months pregnant, went to the hospital after her water broke prematurely. After spending three weeks on bedrest at home to avoid going into labor, she then was admitted to AMITA Health Adventist Medical Center outside of Chicago, Illinois on April 13 where she'll stay until the baby is born.
With the risk of coronavirus preventing Moeller from having visitors at the hospital, her husband Bob Conlin decided to get creative to help her through the isolating time.
While Conlin told NowThis that he pays a visit three to four times a week to his wife's hospital window from the sidewalk four floors down, he said once a week is dedicated to a real date. Conlin turns on the romance by asking his wife on a date and showing up with a wagon in tow, filled with date night essentials that includes a table with candles and flowers. But their special version of a "date" means having food safely delivered to her hospital room and then eating together via FaceTime.
Conlin even brings signs for his wife that say things like "You're beautiful," and "Proud Papa," to show his support from the sidewalk. He said that he hopes the date nights give his wife something to look forward to.
"I feel like making the nights a little extra special give her a reprieve from the monotony of bed rest (and hospital food)," Conlin said.
Moeller is a high school teacher and wrapped up the school year on Friday from her hospital bed, where Conlin said she had continued to work. For their date, he decided to surprise her with a piñata instead of champagne that she'd usually have on the last day of school.
Facebook/ Bob Conlin
Conlin said doctors aren't sure why Moeller's water broke so soon, but say it's a condition called premature rupture of membranes. The original due date for their baby boy was in August, and now, he says they're both hopeful that she'll deliver the baby in June at the earliest.
"There's still a lot we won't know until he is born," Conlin told NowThis. "Specifically his lung function which is the greatest concern. Babies need amniotic fluid to help develop lungs. He wiggles and hiccups a lot which [are] great signs."
Conlin said he was able to finally see his wife on Mother's Day for about two hours after he tested negative for COVID-19, but added that the days apart are hard.
"Now that it looks like we have a good chance of bringing Forest home it's a bit easier," Conlin said. "[I'm] sad I don't have Shona with me. She is such an amazing woman. I love her deeply and not having her by my side is a challenge."
While Moeller hasn't been able to enjoy the usual traditions of being pregnant, Conlin posted on Facebook that a group of nurses at the hospital threw her a baby shower.
Even though the couple has been faced with a challenging time, Conlin said this experience has brought them closer together and that he's "so enamored by her strength and resilience."
Moeller posted on Facebook earlier this week that she was given permission to leave her hospital room and sit outside on the patio, adding: "When I found out I could leave my room and go outside, I had a good long ugly cry. Like really ugly... in the best way. It's incredible how much I've missed fresh air, a breeze, the sun, connection to living/growing things, etc."
The couple both end each of their Facebook updates with their mantra, "Grow Forest Grow," to "encourage our little tree to keep growing."