This Incoming Harvard Student's Common App Essay Went Viral on TikTok
Throughout her essay, Mack said she uses "S" as an analogy for the death of her mother.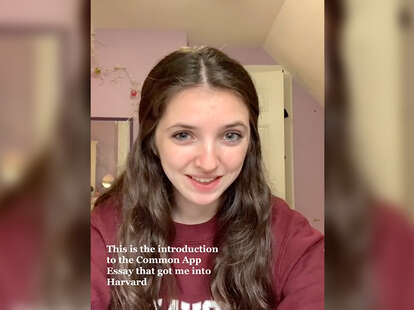 Abigail Mack, an incoming Harvard University first-year student, went viral for a recent series of videos she posted on TikTok reading her Common App essay. As of Tuesday, the first video of the series, where Mack reads the introduction to her essay, has received more than 16 million views.
Mack's mother died when the teen was 12, she said in another video on her TikTok account, and that made the letter "S," and more specifically the word "parents," fraught.
"I can't get through a day without being reminded that while my friends went out to dinner with their parents, I ate with my parent," Mack wrote in her Common App essay, which also helped her get into schools like Northwestern and Notre Dame. "As I write this essay, there is a blue line under the word 'parent' telling me to check my grammar."
Mack said she uses "S" as an analogy for the death of her mother throughout her essay and describes participating in a wide range of extracurriculars to cope with her loss.
"I could get away from 'S' if I stayed busy," Mack said in her essay. "You can't have dinner with your 'parent' if you're too busy to have family dinner."
Mack goes on to describe that she became "the busy kid," filling her time with dance rehearsal, volleyball practice, homework, and other activities in order to avoid thinking about the loss of her mother. But eventually, she found the three things she enjoyed the most: theatre, academics, and politics.
"I stopped running away from a single 'S,' and began chasing a double 'S' — paSSion," Mack wrote in her essay. "Passion has given me purpose. I was shackled to 'S' as I tried to escape the confines of the traditional familial structure."
Mack told BuzzFeed that her interest in politics came about after she witnessed the Black Lives Matter demonstrations in the summer of 2020. That interest led her to work on progressive Democratic Sen. Ed Markey's re-election campaign in Massachusetts and teach Biden campaign volunteers how to phone bank. Mack said one of her other main passions, theatre, has always been part of her life.
"I grew up in a very artistic family — my mother opened a dance studio that my father still runs, and my father is a piano teacher," Mack told BuzzFeed. "There [is] something cathartic in escaping to a new world and being someone else for even just a few hours on stage."
Mack is entering Harvard University's class of 2025 with an undecided major and without a concrete career path, but told BuzzFeed that she is interested in pursuing the humanities and social sciences.
You can hear Mack's full essay starting with this video.