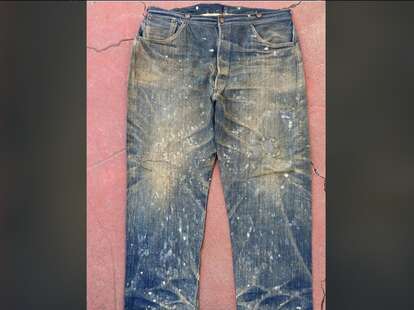 Photo Credit: @goldenstatevtg, Instagram
Photo Credit: @goldenstatevtg, Instagram
A pair of 1880s Levi's jeans was auctioned off for $76,000 in New Mexico, making it one of the most expensive pairs of jeans to be sold, according to the Wall Street Journal. The jeans are in "good/wearable" condition and are from the gold rush era, per the auction listing.
Vintage clothing dealer Kyle Haupert, 23, bought the jeans along with Zip Stevenson, who chipped in 10 percent of the winning bid. After the addition of a buyer's premium, the duo paid $87,400 for the jeans in total.
The jeans were first discovered in an abandoned mineshaft in the American West and date back to the 1880s. They are covered with flecks of candle wax, but some of the original details are still visible. Unlike current Levi's, these vintage jeans have suspender buttons on the waistband and one back pocket.