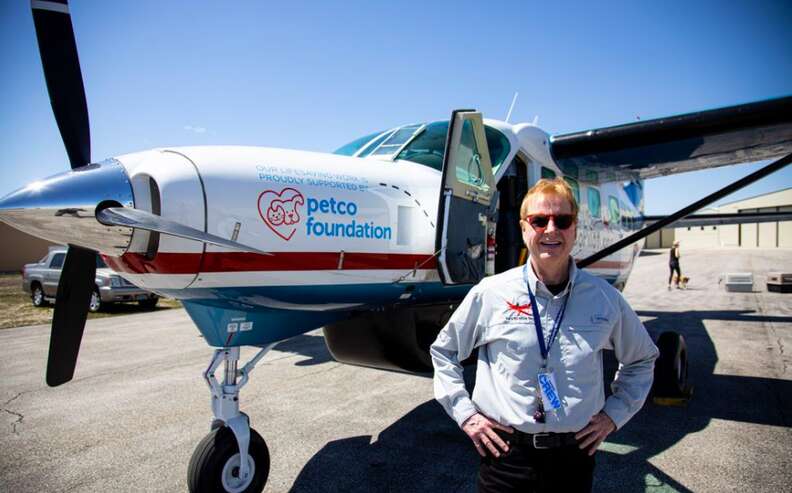 Dr. Peter Rork stands in front of the plane he uses to transport animals at-risk of euthanasia at overcrowded shelters.

| Facebook/ Dog Is My CoPilot
Dr. Peter Rork stands in front of the plane he uses to transport animals at-risk of euthanasia at overcrowded shelters.

| Facebook/ Dog Is My CoPilot
Dr. Peter Rork isn't just using his pilot's license as a hobby; he's using it to save animals. Sparked by tragic loss and his passion for animals, an occasional trip to help transport rescue dogs and cats to no-kill shelters turned into a weekly venture that's now saved thousands of animals.
Rork started the nonprofit Dog Is My CoPilot in 2012 in Jackson Hole, Wyoming, after he safely packed 20 to 30 rescue dogs and cats in his single-engine plane — "like a game of Tetris," he said. He transferred those animals from shelters where they were considered "code red," or on the verge of being euthanized, to no-kill shelters.
DIMC has since saved at least 16,000 animals — mostly cats and dogs — from euthanasia, added on a team of volunteers, and has received a grant large enough to purchase a plane that can fit up to 251 crates, Rork said.
According to the ASPCA, approximately 1.5 million dogs and cats are euthanized each year in the U.S. The organization offers this statistic in contrast to the nearly 2.6 million animals that were euthanized annually in 2011.

The start of Dog Is My CoPilot

Rork, a retired orthopedic surgeon, told NowThis that after flying to California years ago and seeing how many animals were at risk of being euthanized in shelters, he knew how he could help.
"When I saw how huge the problem was, I decided that's the way I wanted to go," Rork said.
When Rork's wife passed away in 2012, he wasn't sure how to move forward.

"I wouldn't wish that on anyone," Rork said. "I was a lost soul. I was broken."
However, advice from a friend helped him rise out of tragedy and pursue a new chapter of his life: "Meg would want you to be happy."
Months later, DIMC officially started.
"It was the missing ingredient," he said. "I don't know where I would be today … This was my way out."
To honor his late wife, who was a fellow animal-lover, Rork began transporting more animals. He partnered with real estate attorney Judy Zimet and took DIMC to the next level, transporting 1,000 animals in the nonprofit's first year.
With the help of his friend Kara Pollard, the organization went from transporting 20 to 30 animals on board at a time to more than 100 dogs and cats during a single flight. Rork now makes multiple stops at overcrowded shelters in different states.
"It took us a couple years to really figure it out, we have the system down now," Rork said. "Kara is my wingman. She's my ground control."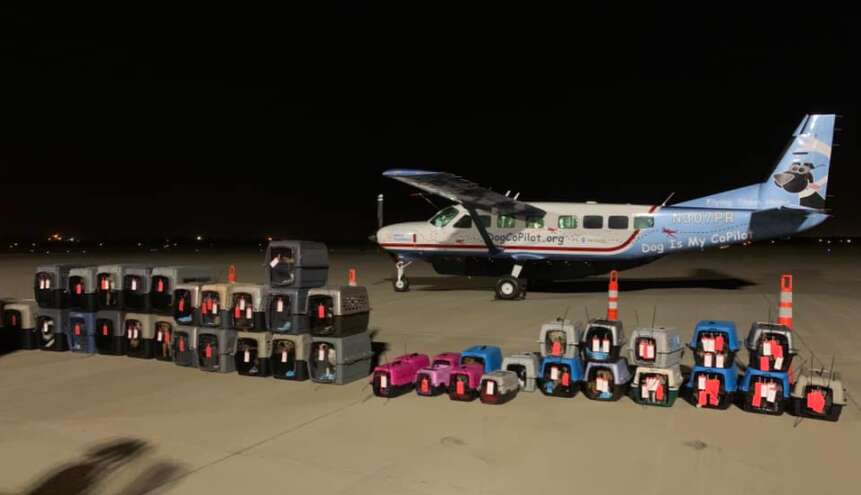 Traveling to states that need the help

Rork primarily travels to Texas, California, New Mexico, and Arizona to pick up animals at risk of being euthanized and transfers them to organizations in Colorado, Idaho, Montana, Oregon, Utah, Washington, and Wyoming. Rork said they only work directly with shelters, no personal drop-offs.
"We only transport from facilities that use euthanasia as part of their tool to control population to organizations that will never put down animals," he said.
Through frequent visits to shelters and word-of-mouth popularity, the organization has received donations and support from volunteers that has helped skyrocket its mission. Petco even backed the cause, giving DIMC a grant that paid for a larger plane — a Cessna Caravan that Rork calls "The Big Dog."
"We're doing what we can, where we can," Rork said. "Our biggest hurdle is financial. Somehow we manage to stay wheels up doing all these rescue flights."
While Rork is taking an aerial approach with his work, he shared the ways others can do their part to help with animal rescue — hopefully running him out of business one day.
"I want people to be part of the solution. We can't do it by ourselves," Rork said. "Adopt, don't shop, and spay and neuter."
He continued: "Every animal that you save, saves two; It's the one you save and the one that takes its place."
For those who can't adopt or foster an animal, he also has a suggestion: "See what local shelters need and reach in your pocket."
While Rork's work has drawn praise, he believes people working directly with animals in shelters as well as volunteers supporting the mission deserve the credit.
"The real heroes here are the people who do go to the shelters everyday," Rork said. "You're never gonna find a group of more committed people than animal rescue groups."
As for Rork, he told NowThis that DIMC has brought him three rescue dogs, a new purpose, and a way to grieve his late wife.
"They rescued me. Every dog that I transport, I owe them something."