This Princess Photo Series Celebrates "Black Girl Magic"
LaChanda Gatson's collection reimagines classic princesses "with a twist of Black girl magic."
Photo: Courtesy of CreativeSoul Photography
When hairstylist LaChanda Gatson was growing up, she rarely saw herself represented in television, movies, or books – including classic fairy tales. So she decided to reimagine traditional princesses "with a twist of Black girl magic."
Gatson, who often works on film sets, teamed up with Atlanta-based CreativeSoul Photography to create the stunning "African American Princess Series." The series debuted during Black History Month and features Black girls as princesses.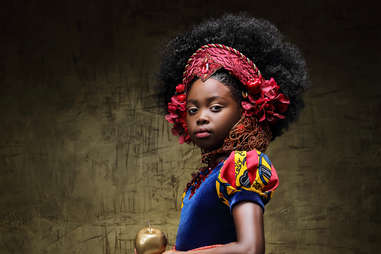 "I'm here to change the old narrative," Gatson told NowThis. "It's important that Brown and Black children see themselves in a brighter light with endless possibilities. They need to know that they are too beautiful, talented, gifted, hold ancestral gifts, powerful, and just as deserving of a happily ever after."

Gatson's images resemble classic characters in tales like "Snow White," "Cinderella," and "The Little Mermaid," but show "diversity in fantasy and imagination" – a concept Gatson said that she rarely sees reflected on film sets.
"As an adult, I've been hired on many sets in Hollywood in both film and editorial for children, and to no surprise, [the lack of diversity is] the same. Not much fantasy in that," she explained. "I want to continue to create and develop spaces for inclusivity. [I'm inspired] to create more conversation by filling those huge gaps."
The husband and wife team behind CreativeSoul, Kahran and Regis Bethencourt, also said they hoped the series would empower Black girls.
"The goal is to inspire more girls around the world to start seeing themselves as regal princesses," Kahran told HuffPost Canada.
To create the princesses' looks, Gatson said she enlisted help from costumes designers around the globe, from cities including Los Angeles, San Diego, Atlanta, Dallas and New York, to countries such as Nigeria, Canada, Amsterdam, Bulgaria, and the UK.
She is also currently working on an African American Princess pop-up museum, that will feature "the AA Princess exhibit, spectacular whimsical Black designs, majestic swag, afro art, and a host [of] celebrity royals."