This Teacher Took Care Of A Baby Whose Entire Family Had COVID-19
Luciana Lira got a call from a student's mother who asked if she could watch over her newborn baby while their entire family recovered from coronavirus.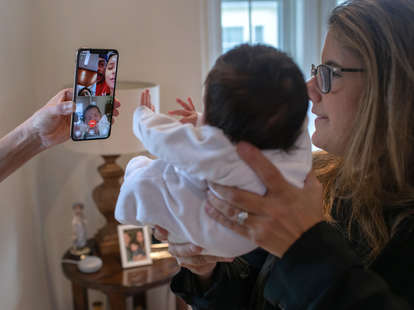 Luciana Lira shows Zully and family their newborn baby for the first time. Getty Images.
Luciana Lira shows Zully and family their newborn baby for the first time. Getty Images.
An elementary school teacher took in a newborn baby after the baby's mother, father, and brother all tested positive for COVID-19.
Luciana Lira teaches English as a second language to students at Hart Magnet Elementary School in Stamford, Connecticut. According to a Facebook post by Lira's friend, Joy Colon, the teacher temporarily took in the baby, who was born on April 2.
According to the post, Lira received a call from a student's mother, Zully, who asked her if she could take in the baby after Zully tested positive for coronavirus. The father and Lira's 7-year-old student later found out they also had coronavirus.
The baby was born five weeks early from an emergency C-section at Stamford Hospital, which is when Zully was diagnosed with COVID-19. WABC reported that after the baby was born, Zully became seriously ill and was placed on a ventilator for several weeks. According to Lira's Facebook, Zully was released from the hospital and sent home on April 25, but the family was still recovering.
Colon called her friend's care for the baby an "unselfish act," adding, "This is not what anyone imagined. Essential workers are out there working every day. We're all at home, working and groping for an understanding of this new normal that caught all of us off guard. But this unselfish act reminds us that our humanity makes us all essential...to each other. How will each of us respond when we are asked to simply show up and help?"
Lira also set up a GoFundMe to help Zully's family pay for health care and living expenses. As of May 5, it has raised more than $23,000.
Correction: An earlier version of this story stated Zully left the hospital on 4/27, but she was released on 4/25.