This Woman Accused A Black Teen Of Stealing Her Phone, Then An Uber Driver "Magically Returned" It
In a video recorded in a Manhattan hotel, the woman lunges toward a 14-year-old boy and his father before falling, saying, "I'm not letting him walk away with my phone!"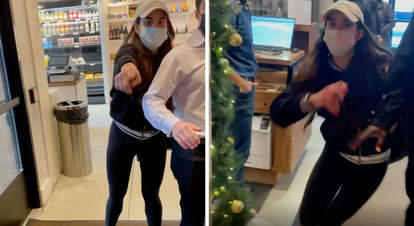 An acclaimed musician said a woman accosted and falsely accused his son, a Black teenager, of stealing her cellphone in a New York City hotel.
A video of the heated exchange, which took place over the weekend, has sparked outrage on Twitter and is drawing comparisons to an incident earlier this year in which a white woman called the police on a Black man who was bird-watching in Central Park after he asked her to leash her dog.
Grammy-winning jazz trumpeter Keyon Harrold posted a video of the Saturday incident in the lobby at the Arlo Hotel, which he said occurred as he and his 14-year-old son came down from their room.
"This person ... 'lost' her iPhone, and apparently, my son magically acquired it, which [is] merely ridiculous," Harrold said in the post. "This incident went on for five more minutes, me protecting my son from this lunatic. She scratched me; she Tackled and grabbed him. He is a child!!!"
In the video, the unidentified woman who is seen standing behind a hotel manager, demands that her phone be returned.
"Are you kidding me? You think there's only one iPhone made in the world?" Harrold says.
The manager then demands the teen show him the phone, even though Harrold points out they had just gotten off the elevator. At one point in the exchange, the woman lunges toward them before falling, saying, "I'm not letting him walk away with my phone!"
Harrold then said the woman's phone "was magically returned by an Uber driver a few minutes after this incident."
"He's the sweetest, most genuine kid you could ask for," Harrold said in an interview Monday. "I was just appalled at how he was treated."
In a Monday Instagram post, the hotel apologized for the "recent incident of baseless accusation, prejudice, assault against an innocent guest of Arlo Hotel."
"No Arlo guest – or any person – should be subject to this kind of behavior," the post said. "We want to apologize to Mr. Harrold and his son for this inexcusable experience, and have reached out to them directly to express our sincere regret and to offer help in dealing with the traumatic event."
The video has prompted widespread outrage online, and people are demanding to know the woman's identity.
The encounter has drawn comparisons to an incident in May in which a woman called the police on a Black man in Central Park after he asked her to leash her dog. The incident caused outrage across the nation and resulted in the woman, Amy Cooper, losing her job and being charged with filing a false police report.
In June, New York state lawmakers passed legislation that would create a civil penalty "for the biased misuse of emergency services, such as 911, when there is no reason to believe a crime or offense."
Civil rights attorney Benjamin Crump has urged, on behalf of Harrold and his family, the Manhattan district attorney to bring assault and battery charges against the woman who allegedly attacked the pair in the Arlo Hotel.
The NYPD confirmed to BuzzFeed News that a harassment complaint had been filed. A spokesperson also confirmed to the outlet that the New York County District Attorney is "thoroughly investigating" the incident.