Thousands Demand Their Landlords #CancelRent In Historic Strike
It's reportedly the largest coordinated rent strike in almost a century, with about 12,000 New Yorkers pledging to not pay rent.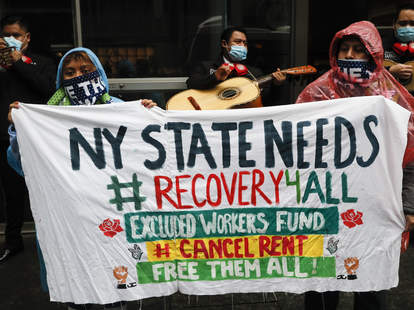 Right now, many Americans aren't able to pay their rent on time or even at all. More than 30 million Americans lost their jobs in the last 6 weeks because of the impact of the coronavirus crisis. The number of people who have filed for unemployment is staggering, and experts fear it will only get worse.
In April, nearly a third of renters nationwide didn't pay their rent by the first week of the month, according to the National Multifamily Housing Council (NMHC). The NMHC's tracker is based on data from around 11 million apartment units across the country. 
In New York City, an epicenter of the virus where COVID-19 has ravaged many communities, organizers prepared rent strikes across multiple properties starting on May 1. Many of them are tenants themselves who have lost income and can't pay their rent. #CancelRent has been trending on Twitter. The May strike is said to be the largest coordinated rent strike in almost a century, with about 12,000 New Yorkers pledging to not pay rent, according to NYC-based publication Gothamist.
Currently, there are no New York state laws providing relief for renters impacted by financial stresses of the pandemic. Homeowners impacted by COVID-19 will be able to pause their payments on their mortgage. For renters, there's a three-month pause on evictions until June 20.
Activists and some lawmakers, however, argue that an eviction pause doesn't solve the burden for people who can't currently pay their rent. Sen. Bernie Sanders (I-VT), Rep. Alexandria Ocasio-Cortez (D-NY), and Rep. Ilhan Omar (D-MN) support legislation that would lead to a moratorium on rent payments in places like New York.
Along with pausing mortgage payments, evictions, and utility shutoffs, we must place a moratorium on rent payments, especially in states hardest-hit by the coronavirus like New York. We must build on the important work @sengianaris and others are doing to make this happen. https://t.co/FKDbZYk4Pp

— Bernie Sanders (@BernieSanders) March 28, 2020
It's May 1st. The rent is due, and 30 million people are out of work.#CancelRent TODAY.

— Ilhan Omar (@IlhanMN) May 1, 2020
During his May 1 presser, New York Gov. Andrew Cuomo was asked if there was anything being done in response to the #CancelRent movement: "Between now and June, we'll figure it out," he replied, noting the statewide pause in evictions. The governor has yet to signal support for legislation that could help address the issue, like the bill introduced by state Sen. Michael Gianaris (D-NY) cited above by Sanders that would suspend rent payments for residential and small business commercial tenants for ninety days.
Crown Heights resident Jose Sanchez is a 26-year-old volunteer organizer who has been preparing his neighbors for a rent strike. This is his first time participating in one, but he does have a long history of grassroots organizing. He's a member of the Democratic Socialists of America.
 
Currently living in a mixed-use building, which includes five residential units, a tax lawyer's office, and a bodega, Sanchez has spent the last month building relationships with his neighbors to understand why a rent strike is necessary. 
"I'm from Jersey, I'm gay. I'm Puerto Rican, I'm Black. Two of my other roommates are Chicanas from South Texas. There's some white dudes  from Portland. There's an older Black couple. Then there's students; young and mostly women. There's like all different races and colors here and backgrounds, but we've all been impacted by this crisis," Sanchez told NowThis.
 
Not everyone in his building was open to a rent strike at first. One unit of mostly young college students already moved out of the building after their in-person classes were canceled and moved to virtual learning. They moved back home to save money. "I would say that people were receptive, and people are supportive," Sanchez said. "I think that people also were frightened…so naturally people want to look after themselves and their immediate loved ones. However, we have maybe per capita…we have like half [the building] participating in the strike."
After the uphill battle of getting other tenants on board, Sanchez had to work to get the group's messaging across to their landlord. His building is operated through a brokerage firm whose clients are mostly millennials renting in gentrified areas of Brooklyn. It's an LLC, or a limited liability company, so figuring out who their landlord (and not just property manager) is takes some time. Sanchez said they are currently in talks to negotiate with the property manager to find a middle ground for both the renters and property owners. 
 
Using relationships with organizations like Housing Justice For All, Sanchez has been able to educate his neighbors on striking, but there's still some fear of backlash from tenants who can afford to pay their rent and aren't keen to participate in a strike. 
 
"I think it's just going to take a lot of relationship building and a lot of conversation. It might have to take them losing their jobs or facing some sort of hardship for them to recognize that like you can only get anything in life — is through struggle," Sanchez said.