Thousands Of People Risked Their Health To See A Chainsmokers Concert In The Hamptons
Video from the luxury "tailgate" event showed a crowd of people standing closely together without masks at a concert that's part of "The Safe & Sound" live music series.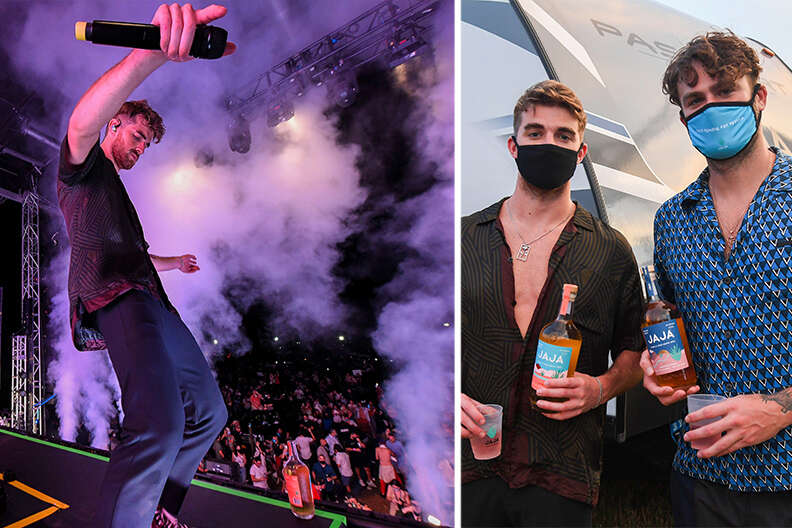 Thousands of people flocked to a field over the weekend to watch The Chainsmokers perform at a charity concert, despite organizers claiming that people would be required to spread out and watch from alongside their cars.
The Saturday night concert, advertised as a socially distanced "tailgate" show, was held in New York's affluent Southampton community on Long Island.
Video and photos taken at the concert showed a sea of people in front of the stage and not wearing masks while electronic music duo The Chainsmokers and others performed. The duo, whose names are Alex Pall and Drew Taggart, performed to a crowd at Nova's Ark Project in The Hamptons as part of "The Safe & Sound" concert series.
The event website described the concert as a "drive-in music experience," where attendees could pay a high price (up to $25,000) for sections of grass. The "Super VIP" package included a 30-foot RV and private bathroom.
Despite the website stating that attendees would be required to follow "all social distancing guidelines," viewing the performance next to their cars in a "controlled and safe environment," the swarm of concertgoers rejected those guidelines. Bloomberg reported that people were dancing on top of their vehicles and on the grass.
Adam Alpert, the founder and CEO of Disruptor Records, which is described as a "joint venture with Sony Music Entertainment," wrote on his Instagram Stories that more than 600 cars and 3,000 people were in attendance.
Alpert also said people had their temperatures checked at the door, were confined to "20x20 parking spots" with their group staying six feet apart from other groups, and had to wear masks "when going to [the] bathroom."
But video from his Instagram posts showed the social distancing protocol initially in place didn't appear to last.
While the event website said the concert was structured to be in line with precautions to curb the spread of COVID-19, many criticized The Chainsmokers for headlining the event in the first place.
News outlets also called out the duo, with Vulture writing, "The Chainsmokers Live Up to Their Name, Put Fans at Risk of Respiratory Illness."
Other performers included Goldman Sachs CEO David Solomon, who opened the concert under his DJ name, "DJ D-Sol," performing for an hour, according to Bloomberg.
The event was held to raise money for No Kid Hungry, Children's Medical Fund of New York and Southampton Fresh Air Home, and the Hamptons performance was listed as the first of several drive-in concerts to take place.
According to screenshots of a pamphlet handed out at the event, The Chainsmokers are set to perform in Miami, Los Angeles, Atlanta, Nashville, and Chicago. Both Florida and California are experiencing surges in COVID-19 cases, specifically in Miami (dubbed an epicenter for the virus) as well as LA County.
"After last night's trial run, I would not recommend a repeat," Southampton Town Police Chief Steven Skrynecki said, according to the Southampton Press.
The CDC warns that medium to large gatherings are at "higher risk" for spreading the virus, even if staying six feet apart is possible. That risk is even higher in close quarters.
While the state of New York has seen a downward trend of COVID-19 cases months after New York City was referred to as one of the virus epicenters, the cases are still emerging. Gov. Andrew Cuomo said on Monday the state reported 608 new cases on Sunday, and that 642 people are currently hospitalized.
As of Monday, The Chainsmokers have not publicly posted about the event.NowThis News has reached out to the Southampton Police Department for comment.