TikTok CEO Steps Down As Trump Pressures Company To Find U.S. Buyer
Kevin Mayer joined the company as CEO in May and reportedly attributed his decision to step down to the political environment.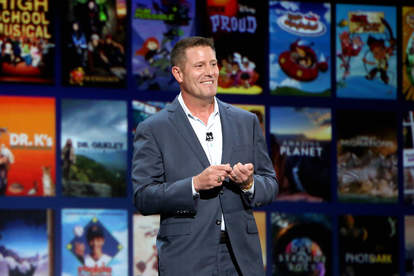 TikTok CEO Kevin Mayer has resigned from the app about three months into his position, as the Chinese-owned company has come under pressure from the Trump administration.
In a letter to employees that the Financial Times reported on Wednesday, Mayer announced his resignation.
The news comes after President Trump signed an executive order on August 6 that TikTok and its Chinese parent company ByteDance would be banned from the U.S. unless an American company purchases the company by September 15. Walmart told CNBC on Thursday that it was partnering with Microsoft in buying the app.
After Trump signed the executive order, TikTok sued the administration and said it "has the potential to strip the rights of that community without any evidence to justify such an extreme action, and without any due process." The lawsuit came after Trump also said the company would "go out of business" if an American company didn't buy it.
In Mayer's statement to his employees, he alluded to the political war between the app and the government.
"In recent weeks, as the political environment has sharply changed, I have done significant reflection on what the corporate structural changes will require, and what it means for the global role I signed up for," Mayer said in his letter to the company. "Against this backdrop, and as we expect to reach a resolution very soon, it is with a heavy heart that I wanted to let you all know that I have decided to leave the company."
He continued: "I understand that the role that I signed up for — including running TikTok globally — will look very different as a result of the US administration's action to push for a sell off of the US business."
Mayer, 58, joined TikTok as CEO in May after working as an executive for the Walt Disney Company. The Financial Times reported that a source close to Mayer said "he didn't sign up for this," referring to political tensions between the U.S. and China, which the app has become embroiled in.
Founder and CEO of ByteDance Zhang Yiming reportedly told employees in a letter that he supported Mayer's decision, adding: "I fully understand that the resulting outcome that we land upon due to the political circumstances we are operating within could have significant impact on his job in any scenario, but particularly given his global role while he's based in the US.
After Trump expressed his crusade against the wildly popular video app, Microsoft announced in a statement earlier this month that it would continue to pursue the purchase of TikTok "subject to a complete security review and providing proper economic benefits to the United States."
Walmart told CNBC on Thursday that it was partnering with Microsoft in buying the app. In a statement to CNBC, Walmart officials said: "We are confident that a Walmart and Microsoft partnership would meet both the expectations of US TikTok users while satisfying the concerns of US government regulators."
According to the New York Times, general manager of TikTok in North America Vanessa Pappas will take over as interim global head of the company.