This Educator Is Using TikTok to Grow His Youth Boxing Nonprofit
Kentucky-born Jamyle Cannon is fighting injustices, one video at a time.
Advertiser Content From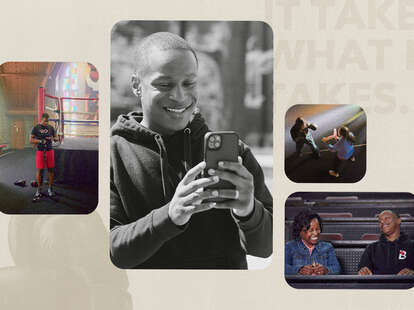 PHOTOGRAPHER: ERICA SCHROEDER; DESIGN: BRITTANY LE
PHOTOGRAPHER: ERICA SCHROEDER; DESIGN: BRITTANY LE
Jamyle Cannon is a self-proclaimed "normal dude." He professes there's nothing special about himself, but his nearly 120,000 TikTok followers, along with the thousands of kids he's positively impacted in Chicago, would disagree.
Like most of us, Cannon sees the injustices in the world and wants to right them. Unlike most of us, he's actually doing something about it and making a tangible difference. Whether he's speaking out about issues of justice and equality, fighting for change within a broken system, or helping teens build a better future for themselves through his nonprofit, The Bloc, Cannon uses his TikTok channel, @jamylecannon, to quite literally make the world a better place.
Improving society may seem like a daunting mission, but it's one Cannon always knew he wanted to be a part of. He studied social work at the University of Kentucky and chose to pursue a career in education once he graduated because he had experienced educational disparities as a child. "I went from a school in a well-resourced area to a school in an area that had more poverty — and you really see the level of education drop off," Cannon said. "Even as a seven-year-old I knew something unfair was happening; it really made an imprint on me."
Cannon's work took him to the westside of Chicago, where he became a teacher. There, he recognized a need for student-mentor connections, and to him, the solution was simple: boxing. As a kid who had been arrested, suspended at 12 years old, and was always looking for a fight, boxing had a grounding effect on Cannon. He became interested in the sport after watching it on TV, and at age nine, he found a space near his Kentucky home that allowed him to box with kids his age under adult supervision. He went on to become an All-American Boxer in college and even won a national championship title. Ultimately, the boxing world became a community for Cannon and taught him how to control his emotions and let go of his anger.
Now, as a teacher, he saw his younger self in a lot of the kids at his school, and he knew the sport would benefit them as well, if nothing else, for the "pure cathartic outlet of it all." "Some people actually need to fight," Cannon said. "It's a part of who they are and we need to embrace that about them and help them do it in the safest way possible." So in 2016, he started The Bloc, a space that cultivates a love of boxing in Chicago's westside youth and communities. But it's also, as he points out, so much more.
"At The Bloc, you get this core group of peers who are all moving in the right direction, who want the best for themselves and they know how to wake up and work for it," Cannon said. "We have peers and mentors who are going to push you and hold you accountable." The organization uses boxing to find kids who want to fight and then uses the sport to build relationships with them while exposing them to positive experiences that kids on the westside are often denied.
As part of the program, kids not only receive boxing training but also have one-on-one check-ins with an adult. They receive academic support and are offered enrichment classes such as coding and culinary arts. The Bloc even has a gardening club and takes kids on college trips.
"We've had a 100% high school graduation rate and a 100% college acceptance rate," Cannon said. "We also ended our last school year with an average GPA of 3.3. Our kids grow a ridiculous amount academically as well as socially and emotionally. It's a mission I feel a responsibility to continue growing because of the strength of the results that we've had."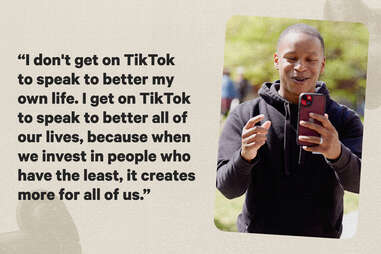 In addition to the organization's youth development work, The Bloc also has an impact on its local community. "We have a food pantry that passes out about 7,000 pounds of fresh produce every month," Cannon said. "We have community events like haunted houses, health events, health clinics, and block parties. The goal is to help provide the services that create functional communities."
While The Bloc is clearly flourishing and making a real difference for Chicagoans on the westside, when Cannon first started his organization six years ago, he was blown away by the lack of resources that existed to help grassroots nonprofits like his get off the ground. The information he did find was targeted towards established organizations that had teams of people behind them.
So in 2022, after successfully navigating the nonprofit world on his own, Cannon took his knowledge to TikTok and began sharing information on how to start, grow, and sustain a grassroots nonprofit. His channel soon evolved into an educational, thought-provoking space that people from all over the world feel connected to.
"I was really pleased to find out that the more authentic I was, the more I opened up about myself and my own journey, the more eyes would make it to me and the more my videos resonated with other people," Cannon said. "So I started speaking out about some of the issues of justice and equality that I had seen — not just focusing on my life coming up within the nonprofit field." All of the topics Cannon covers on TikTok are issues that have either impacted him personally or have had a profound impact on the young people he works with.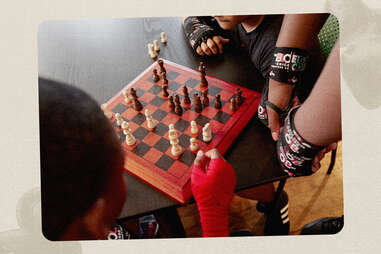 Ultimately, Cannon aims to speak to the issues that are going to make life better for the young people he cares about. His hope is to provide clarity on topics that may be confusing and to spark exploration into why things are the way they are today.
"My call is not always as concrete as, 'Sign this petition' or 'Give money to X, Y, and Z.' It's really about examining that first step of change and thinking about how we can make things better," Cannon said. "I don't get on TikTok to speak to better my own life. I get on TikTok to speak to better all of our lives, because when we invest in people who have the least, it creates more for all of us."
Through his TikTok videos, Cannon truly believes he's making a difference. He doesn't expect to completely change someone's mind or shift their perspective 180 degrees. For him, it's all about progression. "I think turning someone 20 to 30 degrees on an issue is a real accomplishment," Cannon said. "My favorite comments are, 'I never thought about it this way' or 'I could never put this into words the way that you have.'" Most importantly though, Cannon comes to TikTok as a learner. He's quick to point out that everything he's explaining to his followers, he's had to learn at some point himself. In fact, the amount of learning he could do on TikTok is something that really surprised him about the app.
"I've come across creators that really put me in a position to shut up and listen," Cannon said. "They've convinced me that I should do more listening both on the platform and also in my own community. I credit TikTok for really solidifying my resolve in our need to invest in communities in order to solve some of the problems that are happening societally."
He also credits TikTok with helping The Bloc succeed as much as it has. His supportive following on the app has made it possible for his organization to reach the ambitious goals he's set for it — whether that be through monetary donations, volunteer hours, or by simply spreading awareness of The Bloc and all the good that it's doing. "What TikTok has done is taken this community-based nonprofit and broadcast its mission to the world," Cannon said. "There are thousands of donations that come through for The Bloc every year — as far [away] as New Zealand. And for an organization of our size, having that many donors is not typical."
Cannon sees the effects of TikTok on the ground level, too, when people approach him saying they discovered his channel on the app and are now volunteering at his food pantry. It's interactions like these that prove to him his presence on TikTok makes a difference in the real world. TikTok has also helped him realize that he has a powerful platform and therefore, a responsibility to speak up and do good.
Moving forward, Cannon hopes to expand The Bloc across the westside and grow to about 2,500 kids within the next five years. He knows that matching his ambition with funding is an incredibly difficult task, but he believes there's promise in his TikTok community. "To feel like I have a hundred-some-odd-thousand people who have my back, who I want to make sure I'm doing right by — that's been a really beautiful and surprising aspect of this journey," Cannon said.

To learn more about Jamyle Cannon and The Bloc, watch his story forTikTok Sparks Good, a video series highlighting the life-changing opportunities and meaningful connections happening on TikTok.