TikTok Mom Draws Online Fury After Dancing Next to Sick Newborn in Viral Post
A TikTok user received death threats after her attempt to explain her infant's medical condition through a popular dance.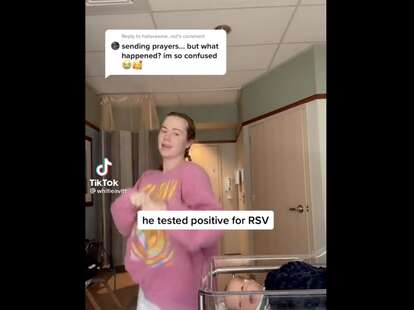 TikTok user Whitney Leavitt has responded to the extensive online backlash she received after sharing a since-deleted video of her dancing next to her newborn son as he received doses of supplemental oxygen.
The video shows Leavitt performing a series of upbeat dances popularized by TikTok, as her infant son lies on a hospital bed wearing a nasal cannula. The video is set to the song "Love," by rapper Kendrick Lamar, and a re-posted version on Twitter has garnered nearly 5 million views.
Leavitt noted in the video's captioning that her son, Liam, had been diagnosed with RSV, a respiratory illness often seen in infants. Despite Leavitt's contextual disclosure, many individuals were unsettled and angered by her post, claiming that Leavitt was acting recklessly and carelessly by dancing while her child was undergoing treatment.
Following an outpouring of hateful messages, Leavitt elected to remove the video, claiming in an interview with BuzzFeed News that the video was "taken out of context" and that it was in alignment with her tendency to educate viewers on the platform by answering their questions in the form of comments — while dancing.
"It was really bad, people were telling me to end my life, they wished my family would die. I felt like I had completely lost control to clear up the context of everything of why I made the video and the reason of what motivated me to make the video and I feel like people completely took it out of context," Leavitt told BuzzFeed News.
Several tabloids, including The Sun and the Mail Online grabbed the story, leading to its rapid circulation. The video, which was originally posted on December 18, 2021, and attracted more than 1.6 million views in two days, was reshared on Twitter and Reddit after its deletion.
A number of Twitter users came to Leavitt's defense, suggesting that perhaps she'd been dancing to "cope" with the situation and commending her for "multitasking."