TikTok Under Pressure To Remove Videos Featuring Misogynistic Content Creator Andrew Tate
Will other social platforms follow suit? (We're looking at you, Instagram)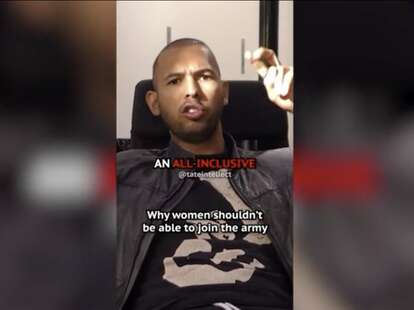 Credit: TikTok
Credit: TikTok
TikTok has come under widespread pressure in recent days to remove videos featuring Andrew Tate, a former kickboxer and content creator know for his misogynistic and homophobic views. Clips of Tate sharing his extreme views have gone viral from several different accounts. Tate also cultivates a sizable presence on Instagram, where he has 4.3 million followers.
Tate is a highly controversial figure online, especially for his comments about women. He previously has said that women are a man's "property," that they "can't drive," and that rape victims need to "bear some responsibility" for the assault they experience. He has been removed from Twitter several times in recent years.
In one viral clip, Tate can be seen saying he finds younger women more attractive than older women — "older" here meaning being 26 instead of 19 — because younger women have "been through less d*ck." He continued by saying that a 19-year-old is "fresh" and easier to make an "imprint on."
In addition to being a content creator, Tate was previously a professional kickboxer and a contestant on season 17 of the British "Big Brother." Producers removed him from the show a week into filming after British tabloid The Sun released a video of him hitting his ex-girlfriend with a belt. The woman and Tate have denied any abuse allegations, claiming the encounter happened during consensual sex.
In recent years, Tate has been accused of violence against multiple women, and even admitted on camera to striking a woman after a wrestling fight broke out at a nightclub. He has also claimed to have had his house raided by police after a prior incident of abuse allegations — allegations which he's denied.
In April of this year, a mansion in Romania belonging to Andrew Tate's brother, Tristan, was also raided, after a tip by the U.S. embassy that a 21-year-old American woman was being held there against her will. Authorities there say the investigation is ongoing. Tate has said that "probably 40% of the reason" behind his move from the UK to Romania was due to rape allegations. "I'm not a rapist, but I like the idea of just being able to do what I want. I like being free," he added.
According to a spokesperson for White Ribbon Australia, a nonprofit working to end violence against women, Tate's "extremely misogynistic" comments could have a long-lasting negative impact on his audience. The charity expressed worry that Tate is normalizing violence, and that his videos create "dangerous cultures and environments for women and girls to exist in."
"Men and boys regularly watching and listening to negative presentations of masculinity may begin to adopt these attitudes and behaviors, believing that they are acting as the 'ideal man,'" a spokesperson said to the Daily Mail.
"Misogyny and other hateful ideologies and behaviors are not tolerated on TikTok, and we are working to review this content and take action against violations of our guidelines," added a TikTok spokesperson, who was also quoted in the Daily Mail's August 8 piece.